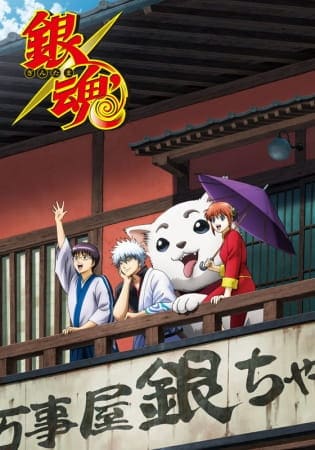 Aired: Oct 4, 2012 to Mar 28, 2013
Duration: 24 min. per ep.
Viewed: 58
Synonyms: Gintama': Enchousen
While Gintoki Sakata was away, the Yorozuya found themselves a new leader: Kintoki, Gintoki's golden-haired doppelganger. In order to regain his former position, Gintoki will need the help of those around him, a troubling feat when no one can remember him! Between Kintoki and Gintoki, who will claim the throne as the main character? In addition, Yorozuya make a trip back down to red-light district of Yoshiwara to aid an elderly courtesan in her search for her long-lost lover. Although the district is no longer in chains beneath the earth's surface, the trio soon learn of the tragic backstories of Yoshiwara's inhabitants that still haunt them. With flashback after flashback, this quest has Yorozuya witnessing everlasting love and protecting it as best they can with their hearts and souls. Gintama': Enchousen includes moments of action-packed intensity along with their usual lighthearted, slapstick humor for Gintoki and his friends. [Written by MAL Rewrite]
Sakata, Gintoki

Main

Shimura, Shinpachi

Main

Kagura

Main

Sakata, Kintoki

Supporting

Yoshida, Shouyou

Supporting

Sarutobi, Ayame

Supporting

Sasaki, Isaburou

Supporting

Seita

Supporting

Shimura, Tae

Supporting

Suzuran

Supporting

Takasugi, Shinsuke

Supporting

Tama

Supporting

Tokiko

Supporting

Tokugawa, Shigeshige

Supporting

Tokugawa, Sadasada

Supporting

Tokugawa, Soyo

Supporting

Toujou, Ayumu

Supporting

Tsukuyo

Supporting

Yagyu, Koshinori

Supporting

Yagyuu, Kyuubei

Supporting
Because we are making use of some free resources to reduce the main server load, the player can be opened on another domain or showed as a new tab (you have to allow pop-up if you're not using Chrome).