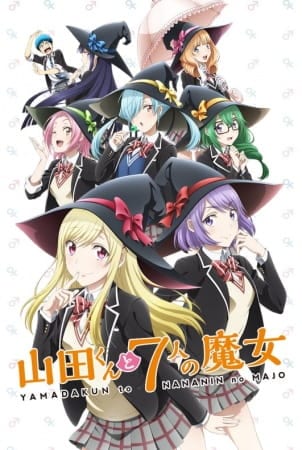 Aired: Apr 12, 2015 to Jun 28, 2015
Producers:
Dentsu
,
Frontier Works
,
Kodansha
,
Rakuonsha
,
Ultra Super Pictures
,
Memory-Tech
,
Daiichikosho
,
Lawson HMV Entertainment
,
Amuse
,
Animatic
,
A-Sketch
Duration: 24 min. per ep.
Viewed: 14
Synonyms: Yamada-kun and the Seven Witches, Yamada-kun to Nananin no Majo, Yamada-kun and the 7 Witches, 山田くんと7人の魔女
When Ryuu Yamada entered high school, he wanted to turn over a new leaf and lead a productive school life. That's why he chose to attend Suzaku High, where no one would know of his violent delinquent reputation. However, much to Ryuu's dismay, he is soon bored; now a second year, Ryuu has reverted to his old ways—lazy with abysmal grades and always getting into fights. One day, back from yet another office visit, Ryuu encounters Urara Shiraishi, a beautiful honors student. A misstep causes them both to tumble down the stairs, ending in an accidental kiss! The pair discover they can switch bodies with a kiss: an ability which will prove to be both convenient and troublesome. Learning of their new power, Toranosuke Miyamura, a student council officer and the single member of the Supernatural Studies Club, recruits them for the club. Soon joined by Miyabi Itou, an eccentric interested in all things supernatural, the group unearths the legend of the Seven Witches of Suzaku High, seven female students who have obtained different powers activated by a kiss. The Supernatural Studies Club embarks on its first quest: to find the identities of all the witches. [Written by MAL Rewrite]
Itou, Miyabi

Main

Miyamura, Toranosuke

Main

Odagiri, Nene

Main

Shiraishi, Urara

Main

Yamada, Ryuu

Main

Inose, Jun

Supporting

Inuzuka

Supporting

Kameda, Mitsuru

Supporting

Miyamura, Leona

Supporting

Ootsuka, Meiko

Supporting

Saionji, Rika

Supporting

Sarushima, Maria

Supporting

Sasaki, Rin

Supporting

Shibutani, Keigo

Supporting

Shinagawa, Daichi

Supporting

Sonoyama, Kiku

Supporting

Takigawa, Noa

Supporting

Tamaki, Shinichi

Supporting

Tsubaki, Kentarou

Supporting

Tsurukawa, Hideaki

Supporting
Comming soon!!! But still, you're very handsome.
Please comment for requesting this anime.