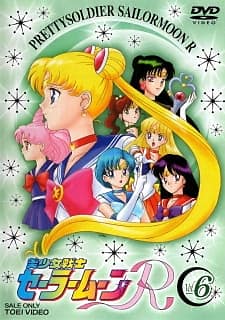 Aired: Mar 6, 1993 to Mar 12, 1994
Duration: 24 min. per ep.
Viewed: 1219
Synonyms: Sailor Moon R
Usagi Tsukino and her friends have been living peacefully until they are called into action again as Sailor Guardians, planetary warriors fighting for the peace of the galaxy. Usagi, also known as Sailor Moon, leads their group into battle when a new threat from beyond the stars presents itself: two survivors of an alien race, An and Ail. In order to save the source of their life force, the Makai Tree, An and Ail begin harvesting energy from unsuspecting humans. The Sailor Guardians must stop their plot or face the annihilation of Earth. But as one threat subsides, another follows—this time in the form of a little girl from the future who seeks the source of Sailor Moon's power to save her family. However, she is not the only one vying for it, as a group known as the Black Moon Clan also wishes to obtain the power and use it for nefarious purposes. In order to protect their destinies and the harmony of the universe, Sailor Moon and the rest of the Sailor Guardians must fight to stop these forces from succeeding. [Written by MAL Rewrite]
Chiba, Mamoru

Main

Chibiusa

Main

Hino, Rei

Main

Kino, Makoto

Main

Mizuno, Ami

Main

Tsukino, Usagi

Main

Aino, Minako

Main

Momohara, Momoko

Supporting

Reci

Supporting

Marzipan

Supporting

Manami's Mother

Supporting

Yamandakka

Supporting

Meiou, Setsuna

Supporting

Oosaka, Mother

Supporting

Oosaka, Naru

Supporting

Petz

Supporting

Pharmakon

Supporting

Prince Dimande

Supporting

Queen Serenity

Supporting

Manami

Supporting
Because we are making use of some free resources to reduce the main server load, the player can be opened on another domain or showed as a new tab (you have to allow pop-up if you're not using Chrome).