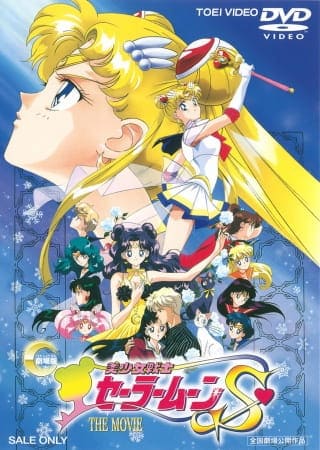 Aired: Dec 4, 1994
Duration: 1 hr. 1 min.
Viewed: 6
Synonyms: Sailor Moon S Movie: Hearts in Ice, Bishoujo Senshi Sailor Moon S: The Movie, Bishoujo Senshi Sailor Moon S: Kaguya Hime no Koibito, Sailor Moon S: Snowprincess Kaguya, 美少女戦士セーラームーンS かぐや姫の恋人
An unusual snow storm hits Tokyo and the Sailor Senshi discover that an evil snow queen Kaguya, wants to freeze the entire earth. It's up to the Inner Sailor Senshi along with the Outers, to defeat the Queen. Meanwhile, Luna falls in love with a human astronomer named Kakeru whose girlfriend is an astronaut about to take a space shuttle mission. Kakeru becomes ill and Luna wishes she could be a human to help him.
Aino, Minako

Main

Chibiusa

Main

Hino, Rei

Main

Kaiou, Michiru

Main

Kino, Makoto

Main

Luna

Main

Meiou, Setsuna

Main

Mizuno, Ami

Main

Ozora, Kakeru

Main

Princess Snow Kaguya

Main

Tenou, Haruka

Main

Tsukino, Usagi

Main

Artemis

Supporting

Chiba, Mamoru

Supporting

Nayotake, Himeko

Supporting

Snow Dancer

Supporting
Comming soon!!! But still, you're very handsome.
Please comment for requesting this anime.