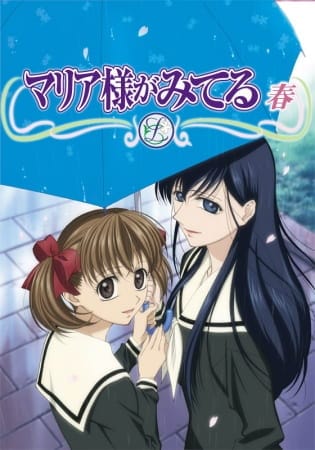 Aired: Jul 4, 2004 to Sep 26, 2004
Duration: 24 min. per ep.
Viewed: 5
Synonyms: Maria Watches Over Us: Printemps, The Virgin Mary is Watching You: Spring, MariMite: Haru, La Vierge Marie Vous Regarde, マリア様がみてる~春~
The spring term is beginning for the students at Lillian Girls' Academy. Friends are reunited, but for the Yamayuri Council, it's a bittersweet time. Yoko, Eriko, and Sei are busy preparing to depart Lillian while Sachiko, Rei, and Shimako are doing their best to ensure that their dear sisters receive a memorable commencement. Sei's departure will leave a sizable hole in the White Roses, and filling it won't be easy. But is there anyone who could appeal to Shimako enough to become the next Rosa Gigantea en bouton? (Source: RightStuf)
Hasekura, Rei

Main

Fukuzawa, Yumi

Main

Toudou, Shimako

Main

Torii, Eriko

Main

Shimazu, Yoshino

Main

Satou, Sei

Main

Ogasawara, Sachiko

Main

Nijou, Noriko

Main

Mizuno, Youko

Main

Matsudaira, Touko

Main

Yamamura-sensei

Supporting

Yamaguchi, Mami

Supporting

Tsukiyama, Minako

Supporting

Tanuma, Chisato

Supporting

Takeshima, Tsutako

Supporting

Professor Yamanobe

Supporting

Katou, Kei

Supporting

Kashiwagi, Suguru

Supporting

Kanina, Shizuka

Supporting

Hosokawa, Kanako

Supporting
Because we are making use of some free resources to reduce the main server load, the player can be opened on another domain or showed as a new tab (you have to allow pop-up if you're not using Chrome).
Comming soon!!! But still, you're very handsome.
Please comment for requesting this anime.