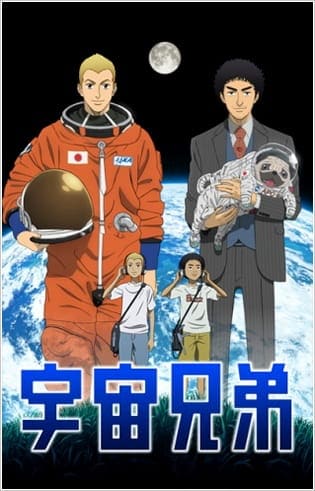 Aired: Apr 1, 2012 to Mar 22, 2014
Duration: 24 min. per ep.
Viewed: 30
Synonyms: Uchuu Kyoudai
On a fateful summer night in 2006, Mutta Nanba and his younger brother Hibito witness what they believe to be a UFO flying toward the Moon. This impressing and unusual phenomenon leads both siblings vowing to become astronauts, with Hibito aiming for the Moon and Mutta, convinced that the eldest brother has to be one step ahead, for Mars. Now an adult, life hasn't turned out how Mutta had pictured it: he is diligently working in an automotive company, whereas Hibito is on his way to be the very first Japanese man to step on the Moon. However, after losing his job, Mutta is presented with an unexpected opportunity to catch up to his younger brother when the Japanese Aerospace Exploration Agency, commonly known as JAXA, accepts his application to participate in the next astronaut selection. Despite self-doubts about his prospects, Mutta is unwilling to waste this chance of a lifetime, and thus embarks on an ambitious journey to fulfill the promise made 19 years ago. [Written by MAL Rewrite]
Nanba, Hibito

Main

Nanba, Mutta

Main

Nakagi

Supporting

Peter

Supporting

Mizoguchi, Yamato

Supporting

Miyata, Atsushi

Supporting

McConnell, Zack

Supporting

Masuda, Daiki

Supporting

Young, Deneil

Supporting

Morishima, Shigeo

Supporting

Nasuda, Shigeo

Supporting

Newscaster

Supporting

Nimura

Supporting

Nitta, Reiji

Supporting

Nitta, Kazuya

Supporting

Noguchi, Souichi

Supporting

Norton, Pico

Supporting

Olivia

Supporting

Patel, Amanti

Supporting

Marumiya, Jun

Supporting
Because we are making use of some free resources to reduce the main server load, the player can be opened on another domain or showed as a new tab (you have to allow pop-up if you're not using Chrome).