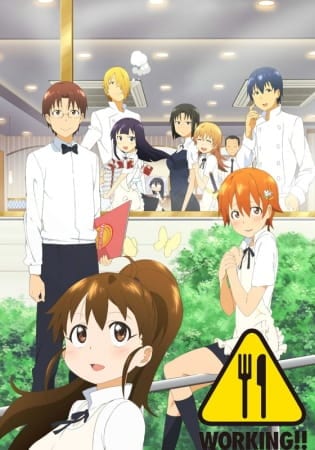 Aired: Apr 4, 2010 to Jun 27, 2010
Duration: 24 min. per ep.
Viewed: 28
Synonyms: Working
Due to his love for small, cute things, Souta Takanashi cannot turn childlike Popura Taneshima down when she recruits him to work for Wagnaria, a family restaurant located in Hokkaido. Takanashi takes particular joy in doting on the older Popura, which only fuels her complex over how young she looks. He also quickly learns he must stay on his toes once he meets the rest of his colleagues, including the katana-wielding floor chief Yachiyo Todoroki, the intimidating head chef Jun Satou, the dangerously well-informed and subtly sadistic sous chef Hiroomi Souma, the adamantly lazy manager Kyouko Shirafuji, and the waitress Mahiru Inami who has a "painful" fear of men. Powered by an eccentric cast, Working!! is a unique workplace comedy that follows the never-dull happenings within the walls of Wagnaria as Takanashi and his co-workers' quirky personalities combine to create non-stop antics, shenanigans, and hilarity. [Written by MAL Rewrite]
Satou, Jun

Main

Shirafuji, Kyouko

Main

Souma, Hiroomi

Main

Takanashi, Souta

Main

Taneshima, Popura

Main

Todoroki, Yachiyo

Main

Yamada, Aoi

Main

Inami, Mahiru

Main

Takanashi, Izumi

Supporting

Takanashi, Nazuna

Supporting

Takanashi, Kozue

Supporting

Takanashi, Kazue

Supporting

Takanashi, Father

Supporting

Otoo, Hyougo

Supporting

Matsumoto, Maya

Supporting

Inami, Father

Supporting

Inami, Mother

Supporting
Because we are making use of some free resources to reduce the main server load, the player can be opened on another domain or showed as a new tab (you have to allow pop-up if you're not using Chrome).