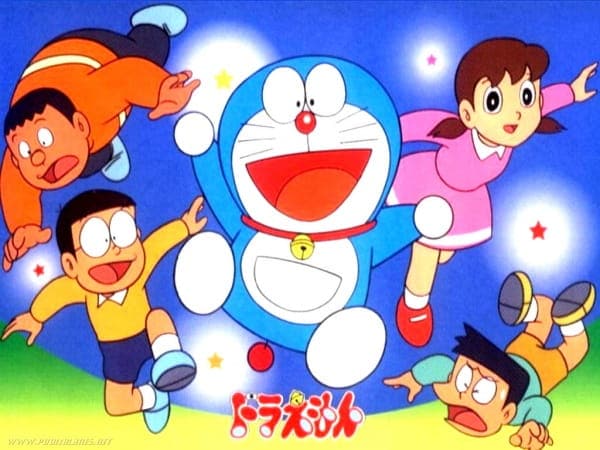 Aired: Apr 2, 1979 to Mar 18, 2005
Duration: 11 min. per ep.
Viewed: 127
Synonyms: Doraemon
Nobita Nobi is a normal fourth grade student. This all changes, however, when a blue robotic cat appears from his desk drawer. Calling himself Doraemon, this robot tells Nobita that his future descendants from the 22nd century live in poverty because of all the mistakes he made. Therefore, they have sent Doraemon to serve as a guide and mentor to Nobita, so that their future may change for the better. What Doraemon comes to learn, though, is that Nobita is the weakest and laziest student in the whole school. To assist in his quest, Doraemon has a four-dimensional pocket with him, in which he keeps various machines and gadgets from the future. Unfortunately, these often result in even more trouble for Nobita. Will Doraemon really be able to achieve his mission of changing Nobita, or will he remain as he is? [Written by MAL Rewrite]
Gouda, Takeshi

Main

Honekawa, Suneo

Main

Minamoto, Shizuka

Main

Nobi, Nobita

Main

Doraemon

Main

Sensei

Supporting

Nobi, Sewashi

Supporting

Nobi, Nobisuke II

Supporting

Nobi, Nobisuke

Supporting

Nobi, Tamako

Supporting

Minamoto, Yoshio

Supporting

Kibo

Supporting

Kaminari

Supporting

Ichi

Supporting

Honekawa, Father

Supporting

Honekawa, Mother

Supporting

Gouda, Sasuke

Supporting

Gouda, Jaiko

Supporting

Gouda, Mother

Supporting

Dorami

Supporting
Because we are making use of some free resources to reduce the main server load, the player can be opened on another domain or showed as a new tab (you have to allow pop-up if you're not using Chrome).