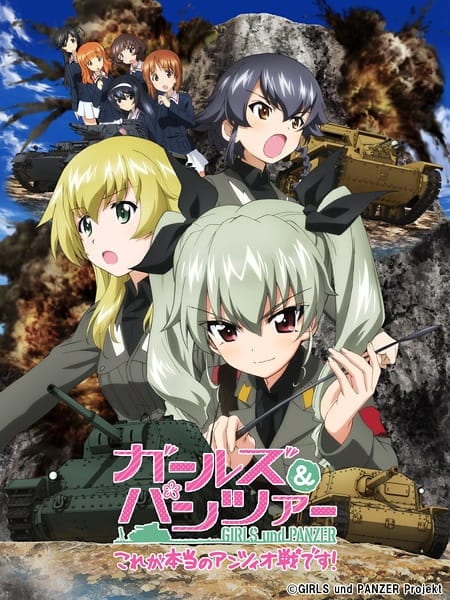 Aired: Jul 25, 2014
Duration: 38 min.
Viewed: 8
Synonyms: Girls & Panzer: This is the Real Anzio Battle!, Girls und Panzer OVA, Girls und Panzer: This is the true battle of Anzio!, ガールズ&パンツァー これが本当のアンツィオ戦です!
After a brilliant victory over Saunders University High School, girls from Ooarai now have to face Italian-themed Anzio Girls High School in the second round of the 63rd National High School Sensha-Dou Tournament. The high-spirited girls from Anzio, led by the charismatic Chiyomi Anzai, advance toward the battle equipped with baffling tactics and a secret weapon. Ooarai will soon find out that what seemed to be a mere formality might take an unexpected and possibly disastrous turn. Whether they will win the match, or lose and doom their school to a closure, is still on a knife-edge. [Written by MAL Rewrite]
Akiyama, Yukari

Main

Isuzu, Hana

Main

Nishizumi, Miho

Main

Reizei, Mako

Main

Takebe, Saori

Main

Anzai, Chiyomi

Supporting

Carpaccio

Supporting

Chouno, Ami

Supporting

Gotou, Moyoko

Supporting

Hoshino

Supporting

Isobe, Noriko

Supporting

Itsumi, Erika

Supporting

Kadotani, Anzu

Supporting

Kawanishi, Shinobu

Supporting

Kawashima, Momo

Supporting

Kondou, Taeko

Supporting

Konparu, Nozomi

Supporting

Koyama, Yuzu

Supporting

Maruyama, Saki

Supporting

Matsumoto, Riko

Supporting
Comming soon!!! But still, you're very handsome.
Please comment for requesting this anime.