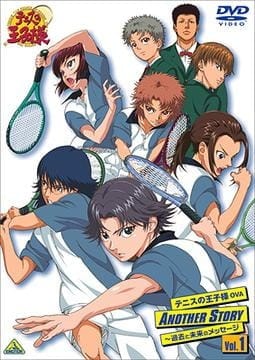 A new Prince of Tennis OVA, called Prince of Tennis OVA Another Story ~Kako to Mirai no Message~, was announced at Shueisha's Jump Festa 09 this past weekend. The official website of the show has confirmed it yesterday. According to the latest issue of Weekly Shonen Jump magazine, Another Story will take place in Osaka after the finals. The preview of the new OVA will be available on the third volume of Prince of Tennis: The National Tournament Finals.
Aired: May 26, 2009 to Sep 25, 2009
Duration: 24 min. per ep.
Synonyms: Prince of Tennis Another Story
Atobe, Keigo

Main

Momoshiro, Takeshi

Main

Inui, Sadaharu

Main

Kaidou, Kaoru

Main

Kawamura, Takashi

Main

Kikumaru, Eiji

Main

Kirihara, Akaya

Main

Oishi, Shuichiro

Main

Oshitari, Yuushi

Main

Sanada, Genichirou

Main

Shishido, Ryou

Main

Tezuka, Kunimitsu

Main

Yukimura, Seiichi

Main

Fuji, Shuusuke

Main

Ootori, Choutarou

Supporting

Niou, Masaharu

Supporting

Mukahi, Gakuto

Supporting

Mizuno, Katsuo

Supporting

Zaizen, Hikaru

Supporting

Konjiki, Koharu

Supporting
Because we are making use of some free resources to reduce the main server load, the player can be opened on another domain or showed as a new tab (you have to allow pop-up if you're not using Chrome).