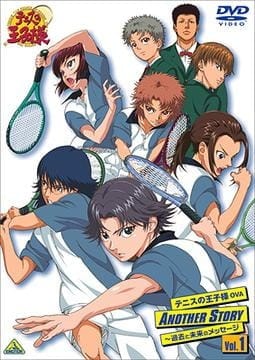 Aired: May 26, 2009 to Sep 25, 2009
Duration: 24 min. per ep.
Viewed: 1
Synonyms: Tennis no Ouji-sama OVA Another Story: Kako to Mirai no Message, Prince of Tennis: Another Story - Messages From Past and Future, テニスの王子様 OVA ANOTHER STORY ~過去と未来のメッセージ
A new Prince of Tennis OVA, called Prince of Tennis OVA Another Story ~Kako to Mirai no Message~, was announced at Shueisha's Jump Festa 09 this past weekend. The official website of the show has confirmed it yesterday. According to the latest issue of Weekly Shonen Jump magazine, Another Story will take place in Osaka after the finals. The preview of the new OVA will be available on the third volume of Prince of Tennis: The National Tournament Finals.
Atobe, Keigo

Main

Fuji, Shuusuke

Main

Inui, Sadaharu

Main

Kaidou, Kaoru

Main

Kawamura, Takashi

Main

Kikumaru, Eiji

Main

Kirihara, Akaya

Main

Momoshiro, Takeshi

Main

Oishi, Shuichiro

Main

Oshitari, Yuushi

Main

Sanada, Genichirou

Main

Shishido, Ryou

Main

Tezuka, Kunimitsu

Main

Yukimura, Seiichi

Main

Ryuzaki, Sumire

Supporting

Shiraishi, Kuranosuke

Supporting

Tanishi, Kei

Supporting

Tooyama, Kintarou

Supporting

Watanabe, Osamu

Supporting

Yagyuu, Hiroshi

Supporting
Comming soon!!! But still, you're very handsome.
Please comment for requesting this anime.