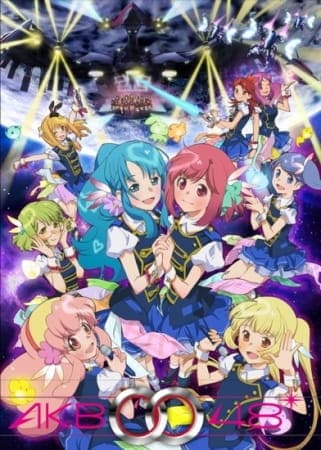 Aired: Jan 6, 2013 to Mar 31, 2013
Duration: 23 min. per ep.
Viewed: 122
Synonyms: AKB0048 Next Stage
In the year since the 77th generation understudies joined AKB0048, the Deep Galactic Trade Organization [DGTO] and DES have stepped up their attacks on entertainment. In response, AKB0048 brings back the general elections and the center nova position. The understudies are now thrusted into a new competition directly against the successors. But as AKB0048 brings back policies not seen since Acchan's disappearance, a new more powerful enemy is quietly moving behind the scenes. (Source: ANN)
Ichijou, Yuuka

Main

Aida, Orine

Main

Yokomizo, Makoto

Main

Sono, Chieri

Main

Shinonome, Sonata

Main

Shinonome, Kanata

Main

Motomiya, Nagisa

Main

Kishida, Mimori

Main

Kimishima, Hikari

Main

Kanzaki, Suzuko

Main

Shiradou, Akira

Supporting

Miyazaki the 7th, Miho

Supporting

Shimazaki the 8th, Haruka

Supporting

Sensei-Sensei

Supporting

Saya

Supporting

Sakuragi, Chiharu

Supporting

Motomiya, Mother

Supporting

Yokoyama the 7.5th, Yui

Supporting

Motomiya, Father

Supporting

Papa Cook

Supporting
Because we are making use of some free resources to reduce the main server load, the player can be opened on another domain or showed as a new tab (you have to allow pop-up if you're not using Chrome).