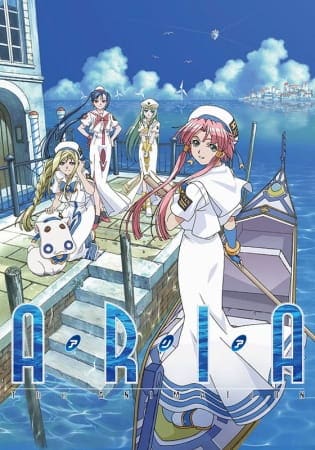 Aired: Oct 6, 2005 to Dec 29, 2005
Duration: 24 min. per ep.
Viewed: 132
Synonyms: Aria the Animation
Drift peacefully into Neo Venezia, a city on the planet Aqua (formerly known as Mars). By the 24th century, humans have found a way to colonize the previously uninhabitable planet. As futuristic as that sounds, Neo Venezia is still teeming with rustic beauty; gondolas on wide canals and waterways are the main mode of transportation. The city itself is a faithful replication of Manhome's (the planet formerly known as Earth) Venice. To make sure that residents and tourists alike get the most from Neo Venezia's many wonders, companies offering guided tours via gondola were formed, one of which is named Aria Company. This is the workplace of Akari Mizunashi, a free spirited teenager from Manhome who is now a novice Undine (the title given to tour guides). Join Akari as she becomes intimately acquainted with other Undine, tourists, Neo Venezia's residents, and even the city itself, learning many valuable life lessons along the way, such as the wonderful truth that there are such things as manmade miracles. [Written by MAL Rewrite]
Ferrari, Akira E.

Main

Florence, Alicia

Main

Glory, Athena

Main

Granzchesta, Aika S.

Main

Mizunashi, Akari

Main

Pokoteng, Aria

Main

Carroll, Alice

Main

Pitt, Albert

Supporting

Maa

Supporting

Izumo, Arata

Supporting

Izumo, Akatsuki

Supporting

Hoshino, Akiko

Supporting

Granzchesta, Hime

Supporting

Ayanokouji the 51st, Udo

Supporting

Arashi

Supporting

Anno, Namihei

Supporting

Ami

Supporting

Ametsuchi, Akino

Supporting

Amelie

Supporting

Aino, Ai

Supporting
Because we are making use of some free resources to reduce the main server load, the player can be opened on another domain or showed as a new tab (you have to allow pop-up if you're not using Chrome).