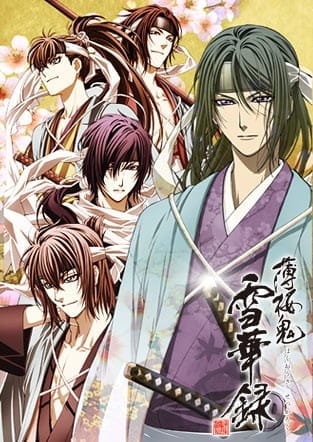 Aired: Aug 5, 2011 to Jun 27, 2012
Duration: 23 min. per ep.
Viewed: 9
Synonyms: Hakuoki ~Demon of the Fleeting Blossom~ A Memory of Snow Flowers, Hakuouki Hekketsuroku OVA, 薄桜鬼 雪華録
This OVA takes place in between episodes 8 and 9 of the first season of Hakuouki. Yukimura Chizuru goes on a reconnaissance mission in Shimabara as a geiko for the Shinsengumi. Each episode unfolds the events of the days leading up to, during, and after the operation. It intermittently reveals each captain's involvement as well as that of a few demons in the affair. Each individual episode primarily focuses from the third person perspectives of: Okita Souji, Saito Hajime, Harada Sanosuke, Toudou Heisuke, Hijikata Toshizo, and Kazama Chikage.
Harada, Sanosuke

Main

Hijikata, Toshizou

Main

Okita, Souji

Main

Saitou, Hajime

Main

Toudou, Heisuke

Main

Yukimura, Chizuru

Main

Amagiri, Kyuujuu

Supporting

Inoue, Genzaburou

Supporting

Itou, Kashitarou

Supporting

Kazama, Chikage

Supporting

Kimigiku

Supporting

Kondou, Isami

Supporting

Nagakura, Shinpachi

Supporting

Nagumo, Kaoru

Supporting

Sannan, Keisuke

Supporting

Senhime

Supporting

Shimada, Kai

Supporting

Shiranui, Kyou

Supporting

Yamazaki, Susumu

Supporting
Comming soon!!! But still, you're very handsome.
Please comment for requesting this anime.