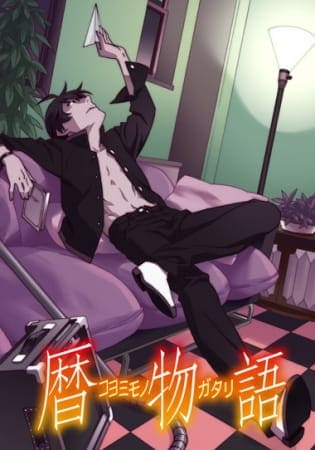 Aired: Jan 10, 2016 to Mar 27, 2016
Duration: 14 min. per ep.
Viewed: 31
Synonyms: 暦物語
Whether it is investigating stone shrines, tracking rumors, or simply playing hide and seek, Koyomi Araragi is always there to fulfill the requests of his friends from both the human and supernatural worlds. Koyomimonogatari tells a series of short stories involving Koyomi as he helps each of the girls in his cohort solve a mystery or kill some time, alongside previously unexplored problems in this essential prelude to his story's last chapter. [Written by MAL Rewrite]
Araragi, Koyomi

Main

Araragi, Karen

Supporting

Araragi, Tsukihi

Supporting

Gaen, Izuko

Supporting

Hachikuji, Mayoi

Supporting

Hanekawa, Tsubasa

Supporting

Kagenui, Yozuru

Supporting

Kaiki, Deishuu

Supporting

Kanbaru, Suruga

Supporting

Ononoki, Yotsugi

Supporting

Oshino, Ougi

Supporting

Oshino, Shinobu

Supporting

Oshino, Meme

Supporting

Sengoku, Nadeko

Supporting

Senjougahara, Hitagi

Supporting
Comming soon!!! But still, you're very handsome.
Please comment for requesting this anime.