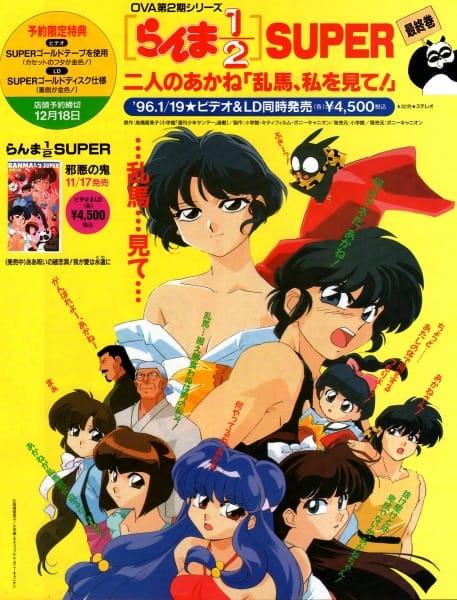 Aired: Sep 21, 1995 to Jan 19, 1996
Duration: 26 min. per ep.
Viewed: 5
Synonyms: Ranma ½ Super OVA, Ranma 1/2 Super, らんま1/2 SUPER
Super OVA 1: Based on a story from vol. 27 of the manga, Shampoo and Ukyo arrange to travel to a cave that is legendary for breaking up couples. They hope they will cause Ranma and Akane to break-up and Shampoo hopes to ditch Mousse the same way. Super OVA 2: "Jaaku no Oni" (lit. "The Wicked Demon") was released in 1995. Based on a story from vol. 29 of the manga, an Oni (that wears a tiger-striped diaper just like the Oni of Urusei Yatsura) escapes it`s sealed box and begins to possess people in the neighborhood. Super OVA 3: This is a story from vol. 31. Ranma disturbs a doll that takes revenge on anyone that shows it disrespect. In order to teach Ranma a lesson, the doll possesses Akane and tries on many occasions to attack him. (Source: AniDB)
Saotome, Ranma

Main

Tendou, Akane

Main

Cologne

Supporting

Hibiki, Ryouga

Supporting

Kuno, Tatewaki

Supporting

Kuno, Kodachi

Supporting

Kuonji, Ukyo

Supporting

Mousse

Supporting

Saotome, Genma

Supporting

Sarugakure, Sasuke

Supporting

Shampoo

Supporting

Tendou, Nabiki

Supporting

Tendou, Kasumi

Supporting

Tendou, Soun

Supporting
Comming soon!!! But still, you're very handsome.
Please comment for requesting this anime.