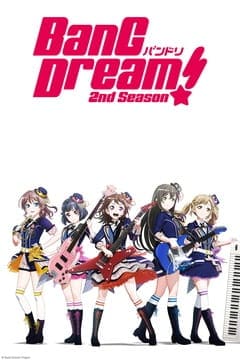 Aired: Jan 3, 2019 to Mar 28, 2019
Duration: 24 min. per ep.
Viewed: 109
Synonyms: BanG Dream! 2nd Season
Kasumi Toyama and the members of Poppin'Party—their high school band—are now second-year students, but with the new school year comes their latest set of challenges: student council duties, cram school, and part-time jobs, among other things. Furthermore, they are now separated into different classes, and as a result, their free time together is shortened. Looking back, their joyful times together seem like nothing more than an unachievable fantasy when their members are too occupied to even gather in Arisa Ichigaya's basement for practice sessions. As the band ponders over the situation, an unfamiliar girl suddenly emerges, unknowingly pulling them into the spotlight once more. In this rising era of girl bands, Afterglow, Pastel*Palettes, Roselia, and Hello, Happy World! begin to make their appearance as well. Each band, comprised of musicians with their unique personalities, illuminates the stage with its performances. As Poppin'Party returns to the music scene and encounters new friends, the sparkling, heart-pounding music starts to play once again! [Written by MAL Rewrite]
Hanazono, Tae

Main

Yamato, Maya

Main

Yamabuki, Saaya

Main

Wakamiya, Eve

Main

Ushigome, Rimi

Main

Uehara, Himari

Main

Udagawa, Tomoe

Main

Udagawa, Ako

Main

Tsurumaki, Kokoro

Main

Toyama, Kasumi

Main

Shirokane, Rinko

Main

Shirasagi, Chisato

Main

Seta, Kaoru

Main

Okusawa, Misaki

Main

Mitake, Ran

Main

Minato, Yukina

Main

Matsubara, Kanon

Main

Maruyama, Aya

Main

Kitazawa, Hagumi

Main

Imai, Lisa

Main
Because we are making use of some free resources to reduce the main server load, the player can be opened on another domain or showed as a new tab (you have to allow pop-up if you're not using Chrome).