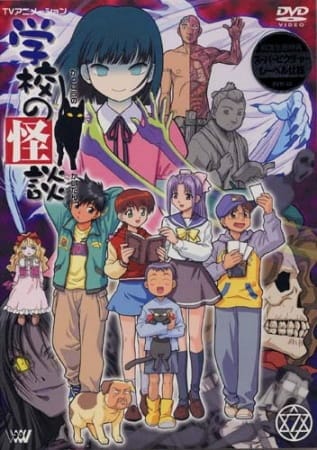 Aired: Oct 22, 2000 to Mar 25, 2001
Duration: 24 min. per ep.
Viewed: 810
Synonyms: Ghost Stories
Years ago, all of the ghosts in a haunted schoolhouse were banished by a certain student. Now, they're back—and they want revenge... Satsuki and Keiichirou Miyanoshita are two siblings recovering from the tragic loss of their mother. After moving to their mother's hometown, they learn that the local school they have transferred to is an old building—one said to be haunted. Despite initially brushing it off as a silly rumor, the two soon discover that ghosts are indeed real and that they're after them! Gakkou no Kaidan is the creepy tale of the lives of these siblings and their newfound friends as they try to survive the school's ghosts—with a little help from their pet cat along the way. [Written by MAL Rewrite]
Aoyama, Hajime

Main

Kakinoki, Reo

Main

Koigakubo, Momoko

Main

Miyanoshita, Keiichirou

Main

Miyanoshita, Satsuki

Main

Amanojaku

Main

Mary

Supporting

Watanabe, Miyuki

Supporting

Matsuda, Shinobu

Supporting

Matsushima

Supporting

Miyanoshita, Genta

Supporting

Miyanoshita, Reiichirou

Supporting

Miyanoshita, Kayako

Supporting

Okabe

Supporting

Ouma

Supporting

Piano Ghost

Supporting

Principal

Supporting

Sakata

Supporting

Shirogane, Yuki

Supporting

Shizuko

Supporting
Because we are making use of some free resources to reduce the main server load, the player can be opened on another domain or showed as a new tab (you have to allow pop-up if you're not using Chrome).