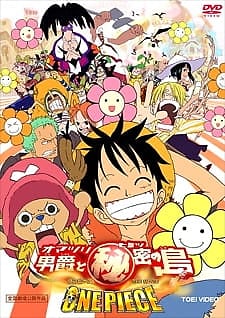 Aired: Mar 5, 2005
Duration: 1 hr. 31 min.
Viewed: 12
Synonyms: One Piece: Baron Omatsuri and the Secret Island, ワンピース オマツリ男爵と秘密の島
The Straw Hat crew obtain an advertisement for a recreational island on the Grand Line run by the Baron Omatsuri. Luffy decides to take this opportunity to kick back and relax. Unfortunately, when they arrive at the island, they are asked to compete in contests through unity for access to relaxation. However, there seems to be a mysterious air on the island, as the Straw Hat Pirates begin to fight amongst themselves, while Robin, Chopper, and Luffy individually search for the secret behind Baron Omatsuri's island. (Source: ANN)
Comming soon!!! But still, you're very handsome.
Please comment for requesting this anime.