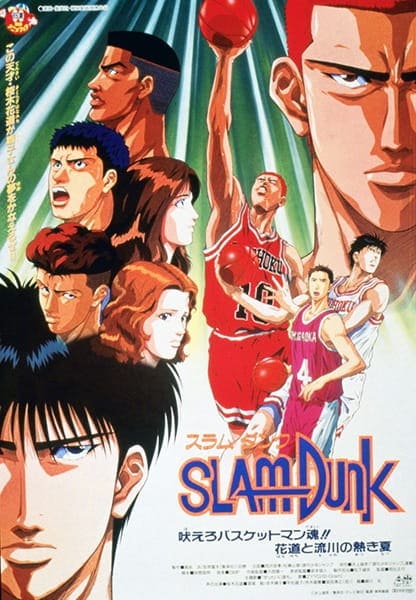 Aired: Jul 15, 1995
Duration: 40 min.
Viewed: 4
Synonyms: Slam Dunk Movie 4, Roar Basketman's Soul: Hanamichi and Rukawa's Burning Summer, Slam Dunk: Hoero Basketman Tamashii!! Hanamichi to Rukawa no Nekki Natsu, スラムダンク 吠えろバスケットマン魂!!花道と流川の熱き夏
Ichiro Mizusawa, a player from Rukawa's old junior high school, Tomigoaka, is diagnosed with a crippling leg condition and wants to play one last game with Rukawa. Hanamichi sets out to help the boy and fulfill his wish. (Source: ANN)
Akagi, Takenori

Main

Mitsui, Hisashi

Main

Miyagi, Ryota

Main

Mizusawa, Ichiro

Main

Rukawa, Kaede

Main

Sakuragi, Hanamichi

Main

Akagi, Haruko

Supporting

Anzai, Mitsuyoshi

Supporting

Ayako

Supporting

Fujii

Supporting

Ishii, Kentarou

Supporting

Kakuta, Satoru

Supporting

Kogure, Kiminobu

Supporting

Matsui

Supporting

Mito, Youhei

Supporting

Noma, Chuichirou

Supporting

Ookusu, Yuuji

Supporting

Sasaoka, Satoru

Supporting

Shiozaki, Tetsushi

Supporting

Takamiya, Nozomi

Supporting
Comming soon!!! But still, you're very handsome.
Please comment for requesting this anime.