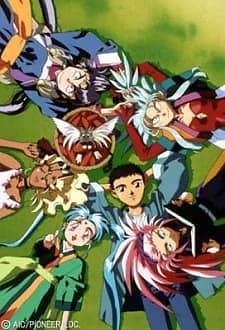 Aired: Sep 25, 1994 to Sep 25, 1995
Duration: 33 min. per ep.
Viewed: 129
Synonyms: Tenchi Muyou! Ryououki 2nd Season
While the galaxy remains at peace, Tenchi Masaki continues to live on Earth with Ryouko and Washuu Hakubi, Aeka and Sasami Jurai Masaki, Mihoshi Kuramitsu, and the cat-like creature Ryo-Ohki. Though it sounds great to be surrounded by so many women, they always end up making things difficult for Tenchi by constantly fighting for his attention, and their attempts at household chores always end in disaster. Although life has become more chaotic since they moved in, Tenchi begins to form a strong bond with his roommates and gains more insight into their respective struggles and history. [Written by MAL Rewrite]
Hakubi, Ryouko

Main

Kuramitsu, Mihoshi

Main

Masaki, Aeka Jurai

Main

Masaki, Sasami Jurai

Main

Masaki, Tenchi

Main

Hakubi, Washuu

Main

Tsunami

Supporting

Tokimi

Supporting

Tennan, Seriyou

Supporting

Ryou-Ouki

Supporting

Masaki Jurai, Funaho

Supporting

Masaki Jurai, Azusa

Supporting

Masaki, Katsuhito

Supporting

Masaki, Nobuyuki

Supporting

Masaki, Kiyone

Supporting

Kamiki Jurai, Misaki

Supporting

D3

Supporting

Captain Nobeyama

Supporting

Azaka

Supporting
Because we are making use of some free resources to reduce the main server load, the player can be opened on another domain or showed as a new tab (you have to allow pop-up if you're not using Chrome).