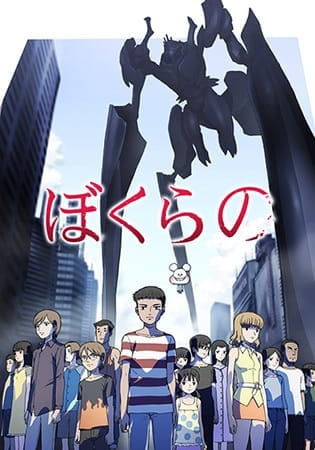 Aired: Apr 9, 2007 to Sep 25, 2007
Duration: 23 min. per ep.
Viewed: 263
Synonyms: Bokurano
15 children, 8 boys and 7 girls, are enjoying their summer camp together when they suddenly discover a grotto by the sea. When they enter the mysterious place they find a room full of computers, as well as a man named Kokopelli, who introduces himself as the owner. He claims to be working on a game which involves a giant robot that has been designed to protect the Earth from 15 different alien invasions. Kokopelli hasn't been able to test the game yet, so he persuades all but one of the children to sign a contract in what he claims will be a fun adventure. However, as soon as the contracts are signed things start to take a much darker turn. In Bokurano, the children must now pilot the giant robot Zearth one at a time in the hopes that they will have what it takes to defeat all of the upcoming enemies. But Kokopelli has left out one very important piece of information: the giant robot Zearth's energy source.
Honda, Chizuru

Main

Yoshikawa, Kanji

Main

Yamura, Daiichi

Main

Waku, Takashi

Main

Ushiro, Jun

Main

Ushiro, Kana

Main

Tokosumi, Aiko

Main

Tanaka, Misumi

Main

Seki, Masamitsu

Main

Nakarai, Mako

Main

Moji, Kunihiko

Main

Machi, Yoko

Main

Komoda, Takami

Main

Koemushi

Main

Kodaka, Masaru

Main

Kirie, Yousuke

Main

Kako, Isao

Main

Ano, Maki

Main

Hasegawa, Toyoharu

Supporting

Hatagai, Hiroyuki

Supporting
Because we are making use of some free resources to reduce the main server load, the player can be opened on another domain or showed as a new tab (you have to allow pop-up if you're not using Chrome).