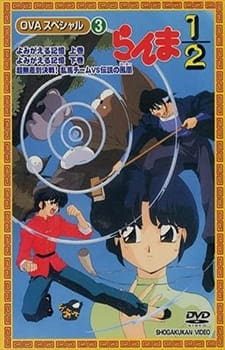 Aired: Dec 16, 1994 to Feb 17, 1995
Duration: 30 min. per ep.
Viewed: 12
Synonyms: Ranma ½: Yomigaeru Kioku
"Reawakening Memories" deals with Akane suddenly remembering a trip to Ryugenzawa when she was a small child. While there she was saved from a giant platypus by Shinnosuke. Akane travels back to Ryogenzawa and once again meets Shinnosuke, who falls in love with her. Akane blames herself for Shinnosuke`s life-threatening injuries, and decides to stay and help out. This irritates Ranma, who thinks that Akane has fallen in love with Shinnosuke, and will do what it takes to get her back.
Saotome, Ranma

Main

Tendou, Akane

Main

Hibiki, Ryouga

Supporting

Kuno, Kodachi

Supporting

Kuno, Tatewaki

Supporting

Kuonji, Ukyo

Supporting

Mousse

Supporting

Orochi

Supporting

Saotome, Genma

Supporting

Shampoo

Supporting

Shinnosuke

Supporting

Shinnosuke's Grandfather

Supporting

Tendou, Soun

Supporting

Tendou, Kasumi

Supporting

Tendou, Nabiki

Supporting