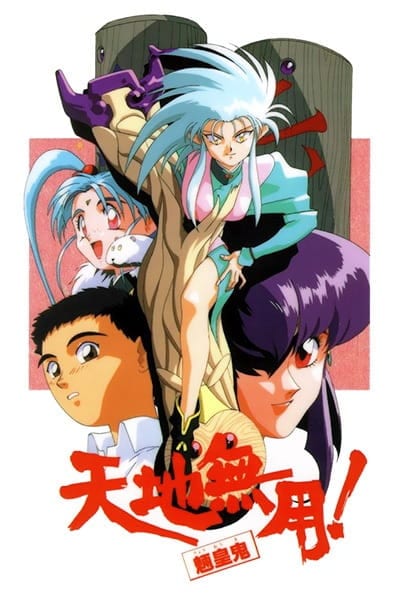 Aired: Sep 25, 1992 to Mar 25, 1993
Duration: 29 min. per ep.
Viewed: 103
Synonyms: Tenchi Muyou! Ryououki
Seventeen-year-old Tenchi Masaki grew up hearing stories about how his ancestor used a sword to seal a demon inside a cave seven hundred years ago. When curiosity gets the better of him, Tenchi goes to the cave and stumbles across the sword from the legend. Thinking that the story is nothing more than a fairy tale, he removes the blade and inadvertently releases the demon, who turns out to be a space pirate named Ryouko Hakubi. Furious about being trapped for so long, she attacks Tenchi, but he is able to repel her with the sword, awakening his inner power. After seeing this, Ryouko takes an interest in her unlikely savior and decides to crash at his place. As if it were a chain reaction, more alien women—Aeka Jurai Masaki, an uptight princess from the planet Jurai; Sasami, Aeka's sweet younger sister; Mihoshi Kuramitsu, a ditzy Galactic Police Officer; and Washuu Hakubi, a wisecracking genius—gradually come in contact with Tenchi and begin living with him. Through his encounters with these five women, Tenchi begins to learn more about his ancestry, newfound power, and the looming threat lurking beyond the skies. [Written by MAL Rewrite]
Hakubi, Washuu

Main

Hakubi, Ryouko

Main

Kuramitsu, Mihoshi

Main

Masaki, Aeka Jurai

Main

Masaki, Sasami Jurai

Main

Masaki, Tenchi

Main

Azaka

Supporting

Captain Nobeyama

Supporting

Kagato

Supporting

Kuramitsu, Minami

Supporting

Masaki, Nobuyuki

Supporting

Masaki, Kiyone

Supporting

Masaki, Katsuhito

Supporting

Ryou-Ouki

Supporting

Tsunami

Supporting

Yosho

Supporting
Because we are making use of some free resources to reduce the main server load, the player can be opened on another domain or showed as a new tab (you have to allow pop-up if you're not using Chrome).