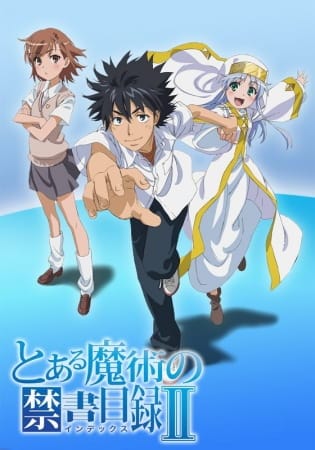 Aired: Oct 8, 2010 to Apr 1, 2011
Duration: 23 min. per ep.
Viewed: 553
Synonyms: To Aru Majutsu no Index 2
As tensions between the world of magic and Academy City continues to rise, Touma Kamijou and his hand of negation must face off against both esper and magician in order to protect the lives of those around him. Of course, he is not alone in his fight; whether by his side or out of sight, allies and enemies both old and new will enter the fray to help him. Toaru Majutsu no Index II continues the story of action and comedy, as the scale of Touma and his allies' battle grows ever larger. A conflict is slowly brewing on the horizon, and magic and science will cross paths once again in the war to come. [Written by MAL Rewrite]
Librorum Prohibitorum Index

Main

Kamijou, Touma

Main

Tsushima

Supporting

Magnus, Stiyl

Supporting

Vasilisa

Supporting

Uragami

Supporting

Uiharu, Kazari

Supporting

Yamisaka, Ouma

Supporting

Shirai, Kuroko

Supporting

Sanctis, Agnese

Supporting

Sahou no Terra

Supporting

Reese, Matthew

Supporting

Platinumburg, Thomas

Supporting

Orville, William

Supporting

Musujime, Awaki

Supporting

MISAKA 19090

Supporting

MISAKA 10032

Supporting

Misaka, Mikoto

Supporting

Misaka, Misuzu

Supporting

Zenpou no Vento

Supporting
Because we are making use of some free resources to reduce the main server load, the player can be opened on another domain or showed as a new tab (you have to allow pop-up if you're not using Chrome).