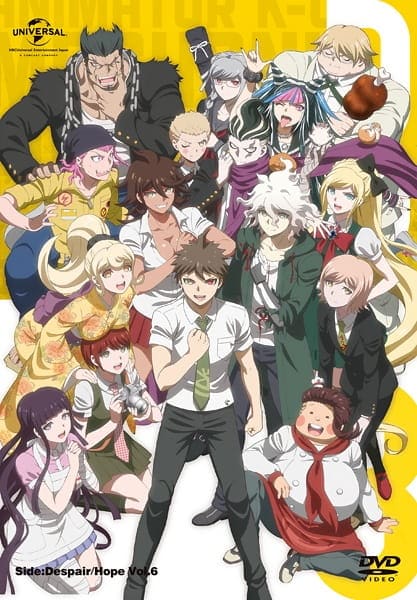 Aired: Sep 29, 2016
Duration: 24 min.
Viewed: 91
Synonyms: Danganronpa 3: The End of Hope's Peak High School - Hope Arc, Danganronpa 3: The End of Hope's Peak Academy - Hope Volume, ダンガンロンパ3-The End of 希望ヶ峰学園-希望編
The Future Foundation is in shambles after the Final Killing Game and the revelation of the true culprit. As a desperate plot arises from one of the survivors to rid the world of despair once and for all, the remaining Future Foundation members must band together to stop this atrocity from taking place. Fortunately, they find themselves with help from a group of unlikely allies as they race against the clock to stop their world from being changed. In this finale to the Hope's Peak storyline of the Danganronpa series, the players in this neverending death game begin to understand the true meaning behind despair, hope, and atonement. [Written by MAL Rewrite]
Hinata, Hajime

Main

Kamukura, Izuru

Main

Mitarai, Ryouta

Main

Naegi, Makoto

Main

Asahina, Aoi

Supporting

Fukawa, Touko

Supporting

Hagakure, Yasuhiro

Supporting

Hanamura, Teruteru

Supporting

Kirigiri, Kyouko

Supporting

Koizumi, Mahiru

Supporting

Komaeda, Nagito

Supporting

Kuzuryuu, Fuyuhiko

Supporting

Mioda, Ibuki

Supporting

Monomi

Supporting

Munakata, Kyousuke

Supporting

Naegi, Komaru

Supporting

Nanami, Chiaki

Supporting

Nevermind, Sonia

Supporting

Nidai, Nekomaru

Supporting

Owari, Akane

Supporting
Comming soon!!! But still, you're very handsome.
Please comment for requesting this anime.