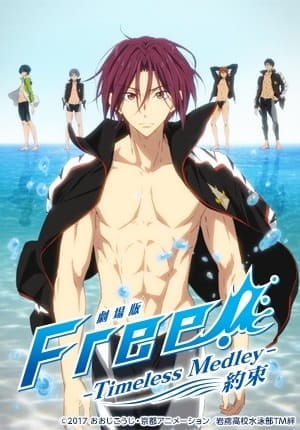 Aired: Jul 1, 2017
Duration: 1 hr. 38 min.
Viewed: 42
Synonyms: 劇場版 Free!-Timeless Medley- 約束
Rin Matsuoka's childhood friend, Sousuke Yamazaki, has recently transferred to Samezuka Academy. Upon their reunion, the two reminisce about their childhood days and reaffirm their wish to swim together. Now with Rin, Sousuke, Captain Mikoshiba's younger brother Momotarou Mikoshiba, and hard-working Aiichirou Nitori, the Samezuka relay team is formed, and their friendship deepens. However, as tournaments, races, and training go on, the reason for Sousuke's sudden return begins to trouble him and affect his swimming. Noticing Sousuke's change, Rin pushes to uncover what is holding him back. [Written by MAL Rewrite]
Matsuoka, Rin

Main

Nanase, Haruka

Main

Yamazaki, Sousuke

Main

Kirishima, Natsuya

Supporting

Kirishima, Ikuya

Supporting

Matsuoka, Miyako

Supporting

Matsuoka, Gou

Supporting

Matsuoka, Toraichi

Supporting

Mikoshiba, Seijuurou

Supporting

Mikoshiba, Momotarou

Supporting

Minami, Kazuki

Supporting

Misaka, Inuhiko

Supporting

Nitori, Aiichirou

Supporting

Ryuugazaki, Rei

Supporting

Sasabe, Gorou

Supporting

Shigino, Kisumi

Supporting

Shiina, Asahi

Supporting

Tachibana, Makoto

Supporting

Takamaru, Kijiheita

Supporting

Toono, Hiyori

Supporting
Comming soon!!! But still, you're very handsome.
Please comment for requesting this anime.