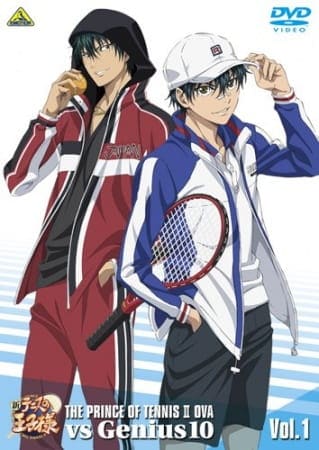 Aired: Oct 29, 2014 to Jun 26, 2015
Duration: 24 min. per ep.
Viewed: 50
Synonyms: Shin Tennis no Ouji-sama OVA vs. Genius 10
This OVA series is a continuation of The New Prince of Tennis series from 2012, still set in the U-17 High School Representatives Selection Camp. The story follows the matches played when the First Strings return from their tour.
Fuji, Shuusuke

Main

Inui, Sadaharu

Main

Kaidou, Kaoru

Main

Kawamura, Takashi

Main

Kikumaru, Eiji

Main

Momoshiro, Takeshi

Main

Oishi, Shuichiro

Main

Echizen, Ryouma

Main

Niou, Masaharu

Supporting

Sengoku, Kiyosumi

Supporting

Ootori, Choutarou

Supporting

Mukahi, Gakuto

Supporting

Zaizen, Hikaru

Supporting

Nakagauchi, Sotomichi

Supporting

Oshitari, Yuushi

Supporting

Oshitari, Kenya

Supporting

Ryuzaki, Sakuno

Supporting

Saitou, Itaru

Supporting

Sanada, Genichirou

Supporting

Mouri, Juzaburou

Supporting