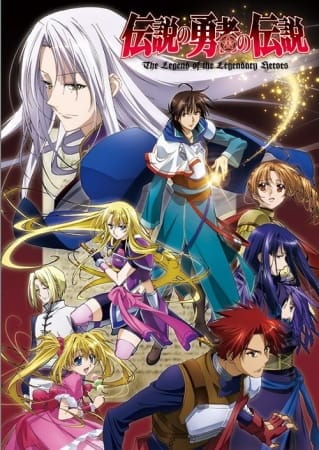 Aired: Jul 2, 2010 to Dec 17, 2010
Duration: 24 min. per ep.
Viewed: 683
Synonyms: The Legend of the Legendary Heroes
"Alpha Stigma" are known to be eyes that can analyze all types of magic. However, they are more infamously known as cursed eyes that can only bring destruction and death to others. Ryner Lute, a talented mage and also an Alpha Stigma bearer, was once a student of the Roland Empire's Magician Academy, an elite school dedicated to training magicians for military purposes. However, after many of his classmates died in a war, he makes an oath to make the nation a more orderly and peaceful place, with fellow survivor and best friend, Sion Astal. Now that Sion is the the king of Roland, he orders Ryner to search for useful relics that will aid the nation. Together with Ferris Eris, a beautiful and highly skilled swordswoman, Ryner goes on a journey to search for relics of legendary heroes from the past, and also uncover the secrets behind his cursed eyes. [Written by MAL Rewrite]
Eris, Ferris

Main

Lute, Ryner

Main

Astal, Sion

Main

Velariore, Lach

Supporting

Velariore, Moe

Supporting

Stokkart, Luke

Supporting

Rumibul, Tiir

Supporting

Rinkal, Lear

Supporting

Orla, Sui

Supporting

Orla, Lir

Supporting

Orla, Kuu

Supporting

Nelphi, Toale

Supporting

Miller, Rahel

Supporting

Lieutolu, Lieral

Supporting

Lafra

Supporting

Kuku

Supporting

Knolles, Kiefer

Supporting

Klom, Claugh

Supporting

Kaiwel, Calne

Supporting

Froaude, Miran

Supporting
Because we are making use of some free resources to reduce the main server load, the player can be opened on another domain or showed as a new tab (you have to allow pop-up if you're not using Chrome).