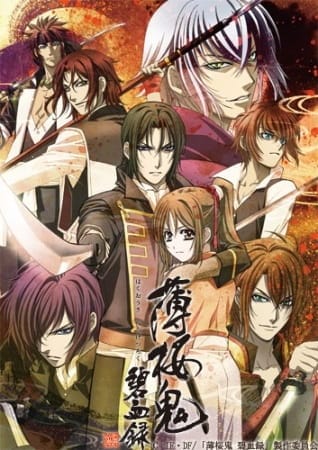 Aired: Oct 4, 2010 to Dec 6, 2010
Duration: 24 min. per ep.
Viewed: 26
Synonyms: Hakuoki ~Demon of the Fleeting Blossom~ Record of the Jade Blood, Hakuouki 2, Hakuoki 2, Hakuouki Shinsengumi Kitan Hekketsuroku, 薄桜鬼 碧血録
After the conclusion of Hakuouki, Chizuru Yukimura and the Shinsengumi are forced to flee Kyoto and set sail for Edo. In their commander Isami Kondou's absence, vice-commander Toshizou Hijikata steps in as acting commander. However, Hijikata is not only struggling with the extra leadership duties—which worries everyone around him—but also a newfound uncontrollable bloodlust. To make matters worse, the urge does not affect him alone, and it is even beginning to drive some of his subordinates mad. Finally, Kondou returns with orders from the emperor to defend the castle, and a new name for their squad: the Kouyou Chinbutai. But in war, the balance of power can shift suddenly and allegiances can waver. In Hakuouki Hekketsuroku, Chizuru follows the Shinsengumi into the heart of war and continues the search for her missing father, all while the bond between her and Hijikata grows ever stronger. [Written by MAL Rewrite]
Harada, Sanosuke

Main

Hijikata, Toshizou

Main

Nagakura, Shinpachi

Main

Okita, Souji

Main

Saitou, Hajime

Main

Sannan, Keisuke

Main

Toudou, Heisuke

Main

Yukimura, Chizuru

Main

Amagiri, Kyuujuu

Supporting

Inoue, Genzaburou

Supporting

Kazama, Chikage

Supporting

Kondou, Isami

Supporting

Masaki, Tokishige

Supporting

Matsudaira, Katamori

Supporting

Nagumo, Kaoru

Supporting

Ootori, Keisuke

Supporting

Shimada, Kai

Supporting

Shiranui, Kyou

Supporting

Yukimura, Koudou

Supporting
Comming soon!!! But still, you're very handsome.
Please comment for requesting this anime.