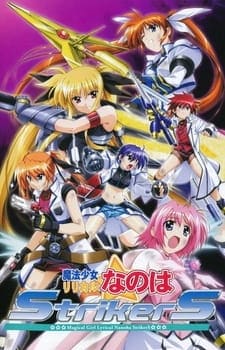 Aired: Apr 2, 2007 to Sep 24, 2007
Duration: 25 min. per ep.
Viewed: 211
Synonyms: Magical Girl Lyrical Nanoha Strikers
Set 10 years after Mahou Shoujo Lyrical Nanoha A's, Nanoha, Fate, Hayate and the rest of the crew are now working full time in the Time-Space Administration Bureau. Nanoha is a combat instructor, Fate is a special investigator, and Hayate is a commanding officer. They must unite once again to save the dimensions. Introducing new characters as well: Subaru, Teana, Caro and Erio. Stand by. Ready. Set up!
Mondial, Erio

Main

Nakajima, Subaru

Main

Ru Lushe, Caro

Main

Takamachi, Nanoha

Main

Testarossa, Fate

Main

Vivio

Main

Yagami, Hayate

Main

Lanster, Teana

Main

Vita

Supporting

Lowran, Leti

Supporting

Reinforce II

Supporting

Quattro

Supporting

Otto

Supporting

Nove

Supporting

Nouera, Schach

Supporting

Nakajima, Ginga

Supporting

Nakajima, Quint

Supporting

Nakajima, Genya

Supporting

Lowran, Griffith

Supporting

Zafila

Supporting