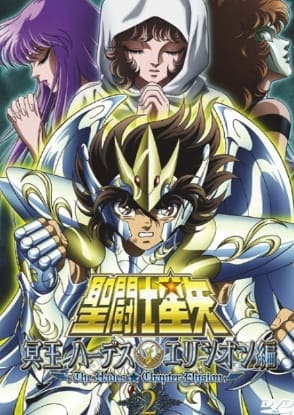 Aired: Mar 7, 2008 to Aug 1, 2008
Duration: 25 min. per ep.
Viewed: 131
Synonyms: Saint Seiya: The Hades Chapter – Elysion
After the 12 Gold Saints sacrifice their lives to destroy the Wailing Wall, The Bronze Saints enter the deepest realm of the Underworld, Elysion, where they face off aganist Hades's two most powerful servants: The Twin Gods, Hypnos and Thanatos, before they can reach Hades for the final battle.
Cygnus, Hyouga

Main

Dragon, Shiryuu

Main

Kido, Saori

Main

Pegasus, Seiya

Main

Phoenix, Ikki

Main

Andromeda, Shun

Main

Miho

Supporting

Wolf, Nachi

Supporting

Narrator

Supporting

Ophiuchus, Shaina

Supporting

Pandora

Supporting

Seika

Supporting

Shunrei

Supporting

Siren, Sorento

Supporting

Solo, Julian

Supporting

Thanatos

Supporting

Unicorn, Jabu

Supporting

Lionet, Ban

Supporting

Libra, Douko

Supporting

Leo, Aiolia

Supporting