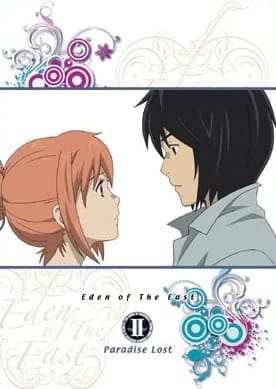 Aired: Mar 13, 2010
Duration: 1 hr. 32 min.
Viewed: 237
Synonyms: Eden of the East the Movie II: Paradise Lost
As one of the 12 Seleção that needs to save the country in order to win a game, Akira Takizawa decided to become the "King of Japan." With that in mind, after his return from the U.S.A., the remaining Seleção will also need to follow up on their own plans as they strive to outdo each other. Saki Morimi and the other members of the "Eden of the East" are under suspicion of being terrorists, but they still do everything they can to help Takizawa reach his goal and unravel the secrets of his past, as the last fight between the Seleção begins. [Written by MAL Rewrite]
Takizawa, Akira

Main

Morimi, Saki

Main

Yuuki, Ryou

Supporting

Tsuji, Jintarou

Supporting

Ohsugi, Satoshi

Supporting

O-nee

Supporting

Naomoto, Taishi

Supporting

Mr. Outside

Supporting

Mononobe, Daiju

Supporting

Mameshiba

Supporting

Kitabashi, Toshiko

Supporting

Katsuhara, Mikuru

Supporting

Kasuga, Haruo

Supporting

Juiz

Supporting

Iwashita, Aya

Supporting

Itazu, Yutaka

Supporting

Iinuma, Chigusa

Supporting

Hirasawa, Kazuomi

Supporting
Because we are making use of some free resources to reduce the main server load, the player can be opened on another domain or showed as a new tab (you have to allow pop-up if you're not using Chrome).