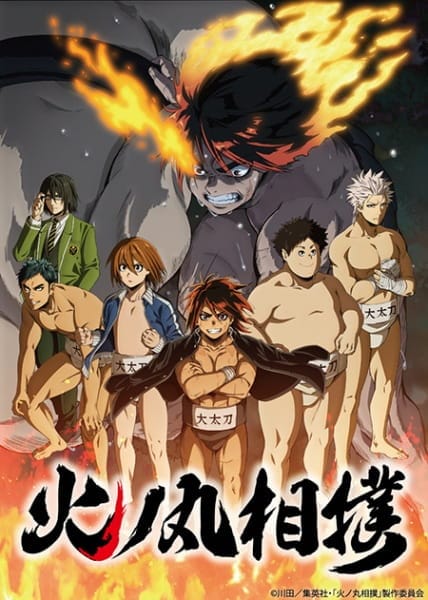 Aired: Oct 5, 2018 to Mar 29, 2019
Duration: 23 min. per ep.
Viewed: 12
Synonyms: Hinomaruzumou
In professional sumo, there are no weight classes. It's a savage sport where the strongest survive, and anyone willing to test their mettle can step into the ring. There is, however, a minimum size requirement to be a pro sumo wrestler, and young Hinomaru Ushio, incredibly talented and hardworking though he may be, does not meet that requirement. This small boy has big dreams of reaching the highest class of sumo, Hinoshita Kaisan. The only way he could possibly go pro is if he becomes the High School Yokozuna, a title given to the strongest wrestler in high school tournaments. Ushio is under a lot of pressure, as well as a time limit. If he can't show off his skills in the high school tournaments, he may lose his chance to go pro permanently, and the odds are stacked against him. Instead of enrolling in Ishigami High, the best school for sumo in Japan, he enrolls in Odachi High and must build a sumo club from the ground up with the one devout member Shinya Ozeki. Odachi High is the true underdog of the sumo world, but Ushio has to push forward with all his strength if he is going to make it professionally. [Written by MAL Rewrite]
Ozeki, Shinya

Main

Ushio, Hinomaru

Main

Gojou, Yuuma

Main

Takani, Shiho

Supporting

Mamiya, Keiichi

Supporting

Terahara, Takuya

Supporting

Tsuji, Kirihito

Supporting

Ushio, Keiko

Supporting

Yomoda, Jin

Supporting

Tennouji, Saki

Supporting

Shibakiyama, Akio

Supporting

Sera, Takumi

Supporting

Sawai, Rion

Supporting

Sanada, Yuuki

Supporting

Saigou

Supporting

Saenoyama, Norihiro

Supporting

Sada, Mizuki

Supporting

Mitsuhashi, Kei

Supporting

Mionisiki

Supporting

Yonemura, Ryouji

Supporting
Because we are making use of some free resources to reduce the main server load, the player can be opened on another domain or showed as a new tab (you have to allow pop-up if you're not using Chrome).