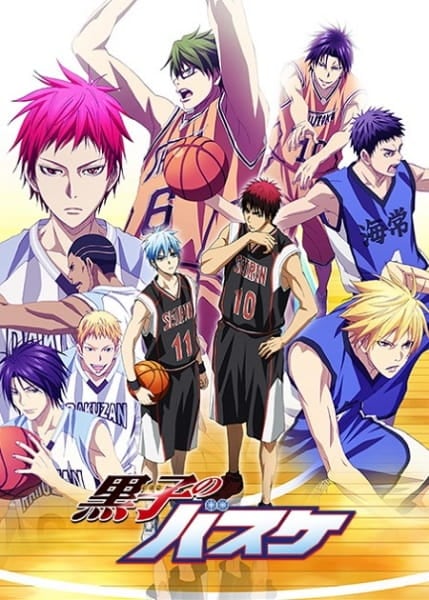 Aired: Jan 11, 2015 to Jun 30, 2015
Duration: 24 min. per ep.
Viewed: 15
Synonyms: Kuroko's Basketball 3, Kuroko no Basuke 3rd Season, 黒子のバスケ
Following their triumph against Yousen High, Seirin's basketball team has reached the semifinals of the Winter Cup along with Kaijou, Rakuzan, and Shuutoku. Each of these teams possesses a member of the Generation of Miracles, and Seirin prepares to face the largest obstacles on their path to winning the Winter Cup. In the final season of Kuroko no Basket, Kuroko goes head-to-head with his old teammates once more as he attempts to show them that individual skill is not the only way to play basketball. His firm belief that his form of basketball, team play, is the right way to play the sport will clash with the talents of a perfect copy and an absolute authority. While Kuroko tries to prove that his basketball is "right," he and the rest of Seirin High ultimately have one goal: to win the Winter Cup and overcome the strength of the Generation of Miracles, who have long dominated the scene of middle and high school basketball. [Written by MAL Rewrite]
Kagami, Taiga

Main

Kuroko, Tetsuya

Main

Mochizuki, Kazuhiro

Supporting

Momoi, Satsuki

Supporting

Moriyama, Yoshitaka

Supporting

Murasakibara, Atsushi

Supporting

Nakamura, Shinya

Supporting

Nakatani, Masaaki

Supporting

Narrator

Supporting

Nebuya, Eikichi

Supporting

Nijimura, Shuuzou

Supporting

Ogiwara, Shigehiro

Supporting

Okamura, Kenichi

Supporting

Ootsubo, Taisuke

Supporting

Ootsuka, Takuma

Supporting

Sakurai, Ryou

Supporting

Sanada, Naoto

Supporting

Sekiguchi, Tooru

Supporting

Seto, Kentarou

Supporting

Shinagawa, Kazuma

Supporting
Comming soon!!! But still, you're very handsome.
Please comment for requesting this anime.