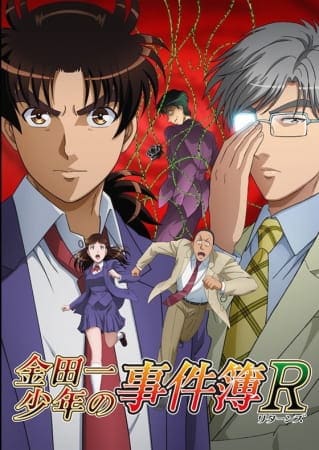 Aired: Oct 3, 2015 to Mar 26, 2016
Duration: 24 min. per ep.
Viewed: 347
Synonyms: Kindaichi Shounen no Jikenbo Returns 2nd Season
Hajime Kindaichi once again becomes embroiled in solving baffling cases and deciphering puzzling crimes that would confound the most seasoned of detectives. Whether it's a gruesome murder and shady circumstances surrounding the Japanese board game Go; a perplexing and macabre case involving a mysterious character, "Rosenkreutz," and blue roses; or blood curdling crimes associated with an urban legend at a winter ski resort – Hajime is out to crack them all! (Source: YTV)
Nanase, Miyuki

Main

Kindaichi, Hajime

Main

Tsukimizato, Hikaru

Supporting

Matsushimada, Manabu

Supporting

Tsukie, Marika

Supporting

Sakura, Kyou

Supporting

Saki, Ryuuta

Supporting

Sabaki, Kaito

Supporting

Ootsuka

Supporting

Onodera, Sorami

Supporting

Okame, Shuusaku

Supporting

Nashimura, Ryou

Supporting

Nang, Leiching

Supporting

Murayama, Tomohiko

Supporting

Murakami, Souta

Supporting

Mouri, Mikado

Supporting

Momose, Shinpei

Supporting

Mitsuishi, Isao

Supporting

Misaki, Renka

Supporting

Zenda, Miruku

Supporting
Because we are making use of some free resources to reduce the main server load, the player can be opened on another domain or showed as a new tab (you have to allow pop-up if you're not using Chrome).