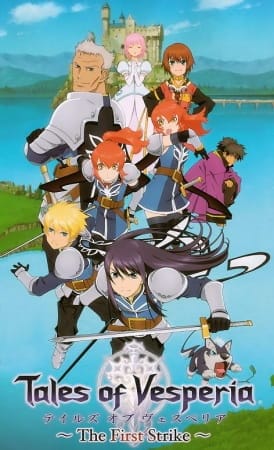 Aired: Oct 3, 2009
Duration: 1 hr. 50 min.
Viewed: 173
Synonyms: Tales of Vesperia: The First Strike
Ten years after the Great War against the demon-beasts, the empire rules over the world and prosperity relies on the massive use of aer. Yuri Lowell and Flynn Scifo are two young men who have just enrolled the ranks of the prestigious Imperial Knights. One day, they are sent to the town of Ceazontania, where abnormal aer activity has reportedly caused the proliferation of horribly mutated beasts, with serious threat for the whole region. Meanwhile, the Knights Supreme Commander Alexei Denoia and the naive Princess Estellise are involved in a behind-the-curtains struggle for power in the capital. The situation in Ceazontania deteriorates as the garrison of Imperial Knights finds that they cannot expect any immediate support from the capital. Then, Niren Fedrok, commander of the Imperial Knights in Ceazontania, takes an unexpected decision that is going to change Yuri and Flynn's destiny forever. What are the secrets behind the extraordinary events that are happening around Yuri and Flynn? Will they be able to defend the innocent people of Ceazontania and stay true to their beliefs? (Source: Funimation)
Aiheap, Chastel

Main

Aiheap, Hisca

Main

Fedrok, Niren

Main

Lowell, Yuri

Main

Scifo, Flynn

Main

Dinoia, Alexei

Supporting

Ema

Supporting

Guradana

Supporting

Keida, Merzhom

Supporting

Lambert

Supporting

Luodur, Garista

Supporting

Mordio, Rita

Supporting

Raven

Supporting

Repede

Supporting

Sidos Heurassein, Estellise

Supporting
Because we are making use of some free resources to reduce the main server load, the player can be opened on another domain or showed as a new tab (you have to allow pop-up if you're not using Chrome).