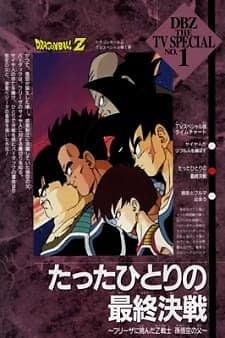 Aired: Oct 17, 1990
Duration: 47 min.
Viewed: 12
Synonyms: Dragon Ball Z Special 1: Bardock, The Father of Goku, DBZ: A Final Solitary Battle! The Z Warrior Son Goku's Father Challenges Furiza, Dragon Ball Z Special 1: Tatta Hitori no Saishuu Kessen - Freezer ni Idonda Z Senshi Son Gokuu no Chichi, DRAGON BALL Z スペシャル たったひとりの最終決戦~フリーザに挑んだZ戦士孫悟空の父~
Bardock, Son Goku's father, is a low-ranking Saiyan soldier who was given the power to see into the future by the last remaining alien on a planet he just destroyed. He witnesses the destruction of his race and must now do his best to stop Frieza's impending massacre. (Source: ANN)
Comming soon!!! But still, you're very handsome.
Please comment for requesting this anime.