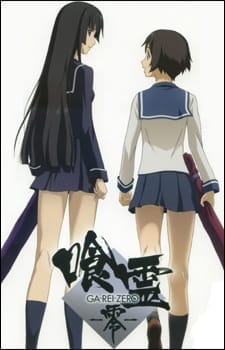 Aired: Oct 6, 2008 to Dec 22, 2008
Duration: 23 min. per ep.
Viewed: 705
Synonyms: Ga-Rei Zero
In Japan, there exists a government agency known as the Supernatural Disaster Countermeasures Division (SDCD), whose duty is to protect the citizens from creatures unseen. They are able to dispatch these monsters swiftly and without alerting the general public. But currently, they face a different challenge: the betrayal of one of their own. After the death of her mother several years ago, Kagura Tsuchimiya has been fostered by the Isayama family and forms a close sister-like bond with their daughter Yomi. The two become inseparable, and together they work for the SDCD as highly skilled exorcists. However, as the stress and consequences of their sacred duty weigh on them both, and family politics come into play, Kagura and Yomi begin to slowly drift apart. One of them grows earnestly into her role as an exorcist, and the other heads down a dark path from which there may be no redemption... [Written by MAL Rewrite]
Tsuchimiya, Kagura

Main

Isayama, Yomi

Main

Yanase, Chizuru

Supporting

Tsuchimiya, Garaku

Supporting

Shindou, Masaki

Supporting

Sakuraba, Kazuki

Supporting

Nimura, Kensuke

Supporting

Nikaidou, Kiri

Supporting

Nakabayashi, Misuzu

Supporting

Nabuu Brothers

Supporting

Mitogawa, Kazuhiro

Supporting

Manabe, Miku

Supporting

Kuzuno, Kudou

Supporting

Konparu, Kiriya

Supporting

Kohara, Michael

Supporting

Kasuga, Natsuki

Supporting

Kanze, Tooru

Supporting

Jinguuji, Ayame

Supporting

Izuna, Noriyuki

Supporting

Izuna, Norisada

Supporting
Because we are making use of some free resources to reduce the main server load, the player can be opened on another domain or showed as a new tab (you have to allow pop-up if you're not using Chrome).