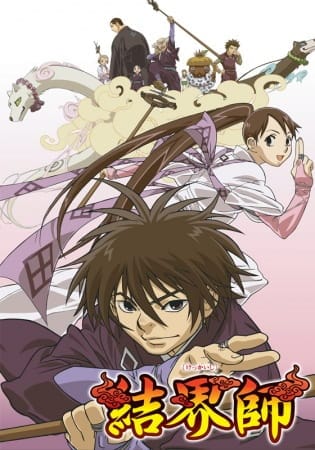 Aired: Oct 16, 2006 to Feb 5, 2008
Duration: 24 min. per ep.
Viewed: 309
Synonyms: Kekkaishi, Barrier Master, 結界師
Yoshimura Sumimura comes from a long line of "Kekkaishi," individuals who have supernatural abilities and are able to destroy evil creatures called Ayakashi that venture into the human realm from time to time. The Ayakashi are demons that look to feast on the power emanating from the land of Karasumori, which also happens to be where Yoshimura's high school is located. Now, Yoshimura must fight to protect his beloved school and hometown. Although, if it were up to him, he would rather be baking cakes than fighting off the ugly characters that show up at night. Thankfully, Yoshimura isn't the only one helping to keep the baddies at bay. His childhood friend and neighbor, Tokine Yukimura, joins him in this righteous battle. Despite the fact that they are from rival clans, these two make a fantastic team. And teamwork is something vital to fighting the evil that is closing in, as the Ayakashi attack in waves, looking to claim the land as their own, and a shadowy organization looks on, ready to pounce when the time is right...
Yukimura, Tokine

Main

Sumimura, Yoshimori

Main

Yukimura, Shizue

Supporting

Ougi, Ichiro

Supporting

Yukimura, Tokiko

Supporting

Tsukijigaoka, Toshihiko

Supporting

Yoki

Supporting

Uro-sama

Supporting

Youkyokusai

Supporting

Sumimura, Masamori

Supporting

Sumimura, Shigemori

Supporting

Shishio, Gen

Supporting

Shion

Supporting

Shinohara, Mao

Supporting

Sekia

Supporting

Sanan

Supporting

Sakon

Supporting

Raizo

Supporting

Princess

Supporting

Yukimura, Tokio

Supporting