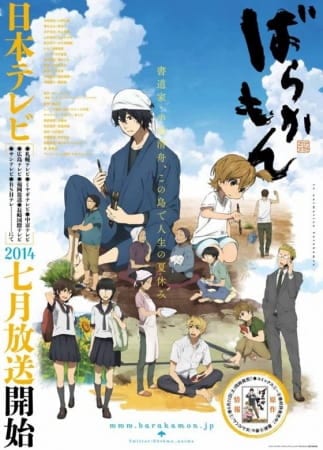 Aired: Jul 6, 2014 to Sep 28, 2014
Duration: 22 min. per ep.
Viewed: 1254
Synonyms: Barakamon
Seishuu Handa is an up-and-coming calligrapher: young, handsome, talented, and unfortunately, a narcissist to boot. When a veteran labels his award-winning piece as "unoriginal," Seishuu quickly loses his cool with severe repercussions. As punishment, and also in order to aid him in self-reflection, Seishuu's father exiles him to the Goto Islands, far from the comfortable Tokyo lifestyle the temperamental artist is used to. Now thrown into a rural setting, Seishuu must attempt to find new inspiration and develop his own unique art style—that is, if boisterous children (headed by the frisky Naru Kotoishi), fujoshi middle schoolers, and energetic old men stop barging into his house! The newest addition to the intimate and quirky Goto community only wants to get some work done, but the islands are far from the peaceful countryside he signed up for. Thanks to his wacky neighbors who are entirely incapable of minding their own business, the arrogant calligrapher learns so much more than he ever hoped to. [Written by MAL Rewrite]
Kotoishi, Naru

Main

Handa, Sei

Main

Yutaka

Supporting

Yamamura, Iwao

Supporting

Yamamura, Miwa

Supporting

Shirakawa, Yurie

Supporting

Sakamoto, Kazuyuki

Supporting

Oohama, Father

Supporting

Oohama, Kentarou

Supporting

Oohama, Mother

Supporting

Nomura, Yasu

Supporting

Kubota, Hina

Supporting

Koumoto, Ikue

Supporting

Koumoto, Aiko

Supporting

Kotoishi, Kousaku

Supporting

Kinoshita

Supporting

Kido, Akiko

Supporting

Kido, Hiroshi

Supporting

Kido, Yuujirou

Supporting

Kawafuji, Takao

Supporting
Because we are making use of some free resources to reduce the main server load, the player can be opened on another domain or showed as a new tab (you have to allow pop-up if you're not using Chrome).