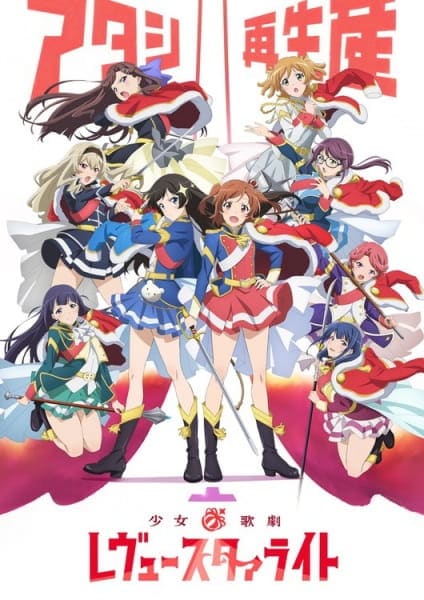 Aired: Jul 13, 2018 to Sep 28, 2018
Duration: 24 min. per ep.
Viewed: 841
Synonyms: Shoujo?Kageki Revue Starlight
As preparations begin for Seisho Music Academy's yearly Seisho Festival, the girls of the 99th class are gearing up to perform their very own rendition of "Starlight," the tragic tale of two goddesses drawn together by the glow of the heavens but destined to be pulled apart, never to meet again. Created to foster the next generation of theatrical talent, this girls' only school works to improve the singing, acting, and dancing skills of its students. One student is 16-year-old Karen Aijou, an easygoing girl who has dreamed of performing on stage since she was a child. Her love for theater is further invigorated when her childhood friend Hikari Kagura transfers to Seisho Academy. Through her old friend, Karen stumbles upon a secret elevator leading to a massive theater underneath the school. Hosted by a talking giraffe, this arena serves as a battleground where her classmates participate in duels to determine who among them deserves the title of "Top Star," earning them the right to play one of the lead roles in "Starlight." Emboldened by the promise she made with Hikari to someday be stars together, Karen enters these mysterious battles in the hopes of making their dream a reality. [Written by MAL Rewrite]
Aijou, Karen

Main

Daiba, Nana

Main

Hanayagi, Kaoruko

Main

Hoshimi, Junna

Main

Isurugi, Futaba

Main

Kagura, Hikari

Main

Saijou, Claudine

Main

Tendou, Maya

Main

Tsuyuzaki, Mahiru

Main

Amemiya, Shion

Supporting

Kirin

Supporting

Sakuragi, Urara

Supporting
Because we are making use of some free resources to reduce the main server load, the player can be opened on another domain or showed as a new tab (you have to allow pop-up if you're not using Chrome).