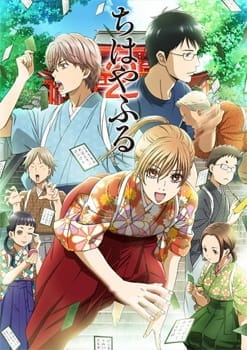 Aired: Jan 12, 2013 to Jun 29, 2013
Duration: 22 min. per ep.
Viewed: 521
Synonyms: Chihayafuru 2
Chihaya Ayase is obsessed with developing her school's competitive karuta club, nursing daunting ambitions like winning the national team championship at the Omi Jingu and becoming the Queen, the best female karuta player in Japan—and in extension, the world. As their second year of high school rolls around, Chihaya and her fellow teammates must recruit new members, train their minds and bodies alike, and battle the formidable opponents that stand in their way to the championship title. Meanwhile, Chihaya's childhood friend, Arata Wataya, the prodigy who introduced her to karuta, rediscovers his lost love for the old card game. [Written by MAL Rewrite]
Mashima, Taichi

Main

Wataya, Arata

Main

Ayase, Chihaya

Main

Yuube, Keiko

Supporting

Suzuki, Manata

Supporting

Oikawa, Tomonari

Supporting

Oooka, Ayane

Supporting

Ooe, Kanade

Supporting

Oono, Masaki

Supporting

Ooe, Rieko

Supporting

Sakura, Ayaka

Supporting

Sakurazawa, Midori

Supporting

Sasa, Suzuka

Supporting

Satoko

Supporting

Shiroyama, Kouki

Supporting

Sorb, Anthony

Supporting

Suda, Megumi

Supporting

Sudou, Akito

Supporting

Suou, Hisashi

Supporting

Nishida, Yuusei

Supporting
Because we are making use of some free resources to reduce the main server load, the player can be opened on another domain or showed as a new tab (you have to allow pop-up if you're not using Chrome).