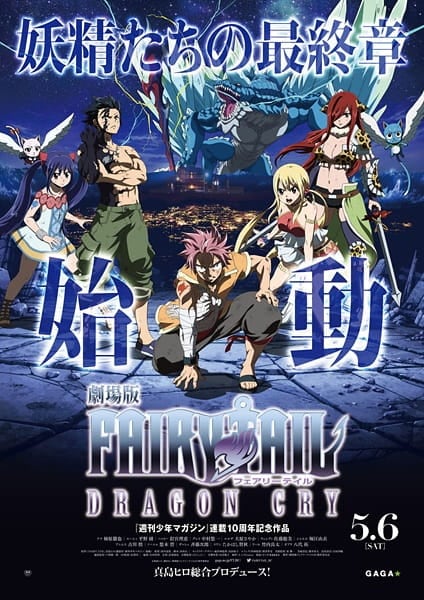 Aired: May 6, 2017
Duration: 1 hr. 24 min.
Viewed: 465
Synonyms: Fairy Tail Movie 2: Dragon Cry
Dragon Cry is a magical artifact of deadly power, formed into a staff by the fury and despair of dragons long gone. Now, this power has been stolen from the hands of the Fiore kingdom by the nefarious traitor Zash Caine, who flees with it to the small island nation of Stella. Frightened that the power has fallen into the wrong hands, the King of Fiore hastily sends Fairy Tail to retrieve the staff. But this task proves frightening as a shadowy secret lies in the heart of the kingdom of Stella. Dragon Cry follows their story as they muster up all their strength to recover the stolen staff and save both kingdoms. [Written by MAL Rewrite]
Fullbuster, Gray

Main

Heartfilia, Lucy

Main

Marvell, Wendy

Main

Scarlet, Erza

Main

Dragneel, Natsu

Main

Pantherlily

Supporting

Zeref

Supporting

Plue

Supporting

Redfox, Gajeel

Supporting

Riana

Supporting

Sagittarius

Supporting

Scorpio

Supporting

Sonya

Supporting

Strauss, Elfman

Supporting

Strauss, Lisanna

Supporting

Strauss, Mirajane

Supporting

Swan

Supporting

Virgo

Supporting

Yura, Invel

Supporting

McGarden, Levy

Supporting
Because we are making use of some free resources to reduce the main server load, the player can be opened on another domain or showed as a new tab (you have to allow pop-up if you're not using Chrome).