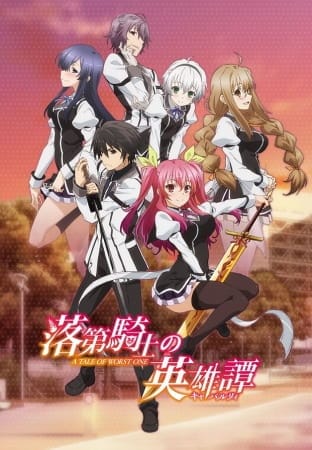 Aired: Oct 3, 2015 to Dec 19, 2015
Duration: 23 min. per ep.
Viewed: 69
Synonyms: Chivalry of a Failed Knight, A Chivalry of the Failed Knight, Rakudai Kishi no Eiyuutan, A Tale of Worst One, 落第騎士の英雄譚《キャバルリィ》
There exist few humans in this world with the ability to manipulate their souls to form powerful weapons. Dubbed "Blazers," these people study and train at the prestigious Hagun Academy to become Mage-Knights; among the students is so-called failure Ikki Kurogane, the sole F-rated Blazer. However, when the worst student in the academy sees Stella Vermillion, an A-ranked Blazer who also happens to be a princess, naked, she challenges him to a duel with dire stakes—the loser becomes the slave of the winner. There's no possible way that Stella can lose, right? Rakudai Kishi no Cavalry follows the story of Ikki as he tries to prove his strength to a world that believes him to be the weakest, all the while gaining new friends, wisdom, and experience. [Written by MAL Rewrite]
Arisuin, Nagi

Main

Kurogane, Shizuku

Main

Kurogane, Ikki

Main

Vermillion, Stella

Main

Kurashiki, Kuraudo

Supporting

Kurogane, Ryouma

Supporting

Kurogane, Itsuki

Supporting

Kusakabe, Kagami

Supporting

Manabe

Supporting

Misogi, Utakata

Supporting

Momotani

Supporting

Oriki, Yuuri

Supporting

Saijou, Ikazuchi

Supporting

Saikyou, Nene

Supporting

Shinguuji, Kurono

Supporting

Sugawara

Supporting

Tomaru, Renren

Supporting

Totokubara, Kanata

Supporting

Toudou, Touka

Supporting

Tsukuyomi, Mikazuki

Supporting
Comming soon!!! But still, you're very handsome.
Please comment for requesting this anime.