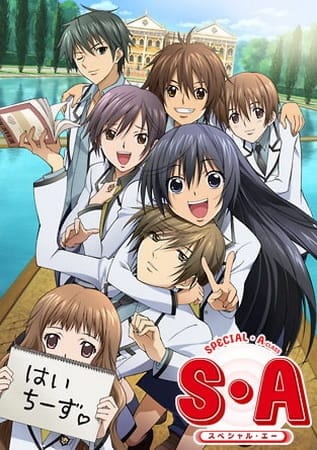 Aired: Apr 7, 2008 to Sep 15, 2008
Duration: 24 min. per ep.
Viewed: 84
Synonyms: Special A (S.A), S.A., Special A Class, スペシャル・エー
Hikari Hanazono has always been able to do things that normal people cannot. As a child, she assumed no one could beat her—until she met Kei Takishima. Thinking she would win, Hikari challenged him to a match. But things didn't go as planned; she lost not once but each time she rechallenged him. From that point on, she has sworn to best Kei at everything, ranging from academics to athletics. To achieve her goal, Hikari enrolls in the same school as Kei—Hakusenkan, a prestigious institute for the wealthy. As a pair, they hold the top two rankings in school and are among seven of the academy's best students in a class known as Special A. While Hikari treats Kei as a rival, she is completely oblivious that he harbors hidden feelings for her. Together, the members of Special A deal with competition, friendship, and just a bit of love. [Written by MAL Rewrite]
Hanazono, Hikari

Main

Karino, Tadashi

Main

Takishima, Kei

Main

Toudou, Akira

Main

Tsuji, Ryuu

Main

Yamamoto, Jun

Main

Yamamoto, Megumi

Main

Hanazono, Atsushi

Supporting

Kakei, Hajime

Supporting

Karino, Sumire

Supporting

Koupe Shuzette, Finn

Supporting

Ogata, Aoi

Supporting

Oikawa, Yui

Supporting

Saiga, Yahiro

Supporting

Saiga, Chitose

Supporting

Takishima, Nagi

Supporting

Takishima, Kaname

Supporting

Takishima, Sui

Supporting

Takishima, Satoru

Supporting

Ushikubo, Sakura

Supporting
Comming soon!!! But still, you're very handsome.
Please comment for requesting this anime.