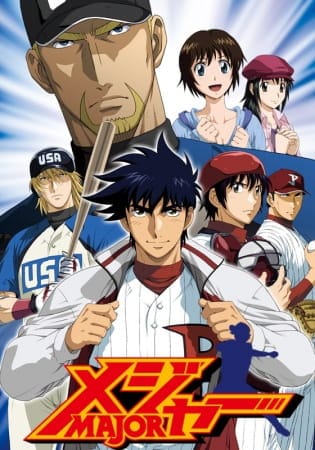 Aired: Jan 10, 2009 to Jun 27, 2009
Duration: 24 min. per ep.
Viewed: 40
Synonyms: Major S5
The Baseball World Cup is nearing, and Gorou Honda is eager to represent his country. However, one small problem stands in his way: the team roster has already been selected, and he is not a part of it. Nonetheless, Gorou remains adamant to join. He becomes a practice pitcher for the Japanese national team, hoping to demonstrate his incredible speed and skills to the team's manager. Fortunately, Gorou is given the chance to prove his worth: he must show an impressive performance in the upcoming practice match involving the veteran Japanese team and the young players who hope to replace them. The World Cup will bring together some of the strongest players from around the globe. It will also set the stage for Gorou's long-awaited showdown with his longtime rival, Joe Gibson. [Written by MAL Rewrite]
Satou, Toshiya

Main

Shimizu, Kaoru

Main

Honda, Gorou

Main

Sanchez, Hilbert

Supporting

Shimizu, Taiga

Supporting

Saeki, Kyoushirou

Supporting

Roy

Supporting

Nishimura

Supporting

Nemoto

Supporting

Navarro

Supporting

Yoshitaka, Yamane

Supporting

Oikawa

Supporting

Sasaki

Supporting

Sato, Miho

Supporting

Sawamura, Ryouta

Supporting

Sengoku, Masato

Supporting

Shigeno, Hideki

Supporting

Shigeno, Shingo

Supporting

Shigeno, Chiharu

Supporting

Nakamura, Miho

Supporting
Because we are making use of some free resources to reduce the main server load, the player can be opened on another domain or showed as a new tab (you have to allow pop-up if you're not using Chrome).