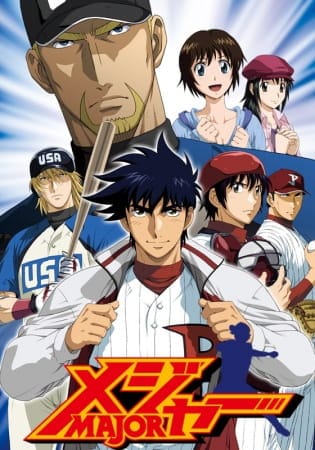 Aired: Jan 10, 2009 to Jun 27, 2009
Duration: 24 min. per ep.
Viewed: 3
Synonyms: Major 5th Season, メジャー
The Baseball World Cup is nearing, and Gorou Honda is eager to represent his country. However, one small problem stands in his way: the team roster has already been selected, and he is not a part of it. Nonetheless, Gorou remains adamant to join. He becomes a practice pitcher for the Japanese national team, hoping to demonstrate his incredible speed and skills to the team's manager. Fortunately, Gorou is given the chance to prove his worth: he must show an impressive performance in the upcoming practice match involving the veteran Japanese team and the young players who hope to replace them. The World Cup will bring together some of the strongest players from around the globe. It will also set the stage for Gorou's long-awaited showdown with his longtime rival, Joe Gibson. [Written by MAL Rewrite]
Honda, Gorou

Main

Satou, Toshiya

Main

Shimizu, Kaoru

Main

Gibson, Joe

Supporting

Gibson Jr., Joe

Supporting

Gonzalez, Alex

Supporting

Guerrera

Supporting

Harada

Supporting

Herring

Supporting

Honda, Yoshiharu

Supporting

Hoshino, Momoko

Supporting

Itao

Supporting

Karasawa

Supporting

Katori

Supporting

Kawabata

Supporting

Kawase, Ryouko

Supporting

Keane, Jeff

Supporting

Kidon, Oh

Supporting

Komori, Daisuke

Supporting

Kowano

Supporting
Comming soon!!! But still, you're very handsome.
Please comment for requesting this anime.