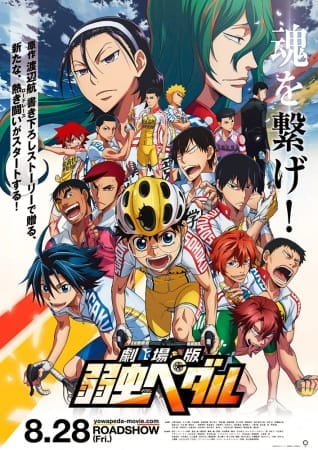 Aired: Aug 28, 2015
Duration: 1 hr. 29 min.
Viewed: 227
Synonyms: Yowamushi Pedal Movie
With the Inter-high over and as the end of summer approaches, Sakamichi trains intensely with Imaizumi Shunsuke and Naruko Shoukichi so he can carry on Team Sohoku's spirit of supporting each other entrusted to him by Kinjou Shingo, Makishima Yusuke, and Tadokoro Jin, the third years who will be graduating before long. One day, Team Sohoku receives an invitation to the Kumamoto Fire Country Mountain Race, an invitational race for teams that performed well at the Inter-high, and their captain Kinjou decides their core Inter-high team will attend. (Source: Crunchyroll)
Naruko, Shoukichi

Main

Onoda, Sakamichi

Main

Imaizumi, Shunsuke

Main

Makishima, Yuusuke

Supporting

Yoshimoto, Shin

Supporting

Manami, Sangaku

Supporting

Midousuji, Akira

Supporting

Miyahara

Supporting

Mizuta, Nobuyuki

Supporting

Onoda, Mother

Supporting

Shibata, Yasuyuki

Supporting

Shinkai, Hayato

Supporting

Sugimoto, Terufumi

Supporting

Tachibana, Aya

Supporting

Tadokoro, Jin

Supporting

Taura, Yoshiaki

Supporting

Teshima, Junta

Supporting

Toudou, Jinpachi

Supporting

Machimiya, Eikichi

Supporting

Kinjou, Shingo

Supporting
Because we are making use of some free resources to reduce the main server load, the player can be opened on another domain or showed as a new tab (you have to allow pop-up if you're not using Chrome).