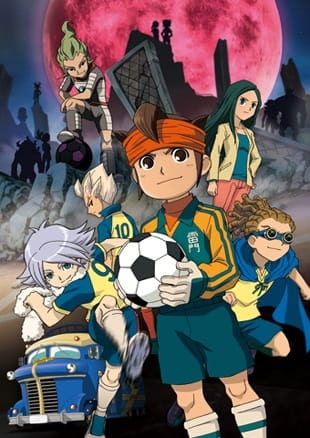 Aired: Oct 5, 2008 to Apr 27, 2011
Duration: 24 min. per ep.
Viewed: 1110
Synonyms: Inazuma Eleven
While other schools in Japan compete for the title of being the best soccer team in the country, Raimon Middle School's soccer club, Inazuma Eleven, struggles to rise from the verge of being disbanded. The grandson of Inazuma Eleven's first generation goalkeeper and captain of the team, Mamoru Endou, takes the challenge of kicking the long neglected club back into shape. To do this, he'll need a little help and more than a little luck. Mamoru Endou finds hope in the hands of Shuuya Gouenji, a brilliant young player who has given up on soccer. Mamoru is determined to get Shuuya and other new recruits to join his team, no matter what the cost. Is his passion and determination enough to treat the ailing club? Or is there no more hope for the team?
Gouenji, Shuuya

Main

Kidou, Yuuto

Main

Endou, Mamoru

Main

Ooedo

Supporting

Nanakaze, Rimu

Supporting

Oobe, Shin

Supporting

Onra, Itsuki

Supporting

Onotomo, Haru

Supporting

Ono, Masataka

Supporting

Onigawara, Gengorou

Supporting

Omotsuki, Sora

Supporting

Noberu, Raito

Supporting

Nishigaki, Mamoru

Supporting

Nikaidou, Shuugo

Supporting

Narukami, Kennya

Supporting

Nata, Juuzou

Supporting

Nashimoto, Nonomi

Supporting

Navarro, Queraldo

Supporting

Nanzan, Yowami

Supporting

Saginuma, Osamu

Supporting
Because we are making use of some free resources to reduce the main server load, the player can be opened on another domain or showed as a new tab (you have to allow pop-up if you're not using Chrome).