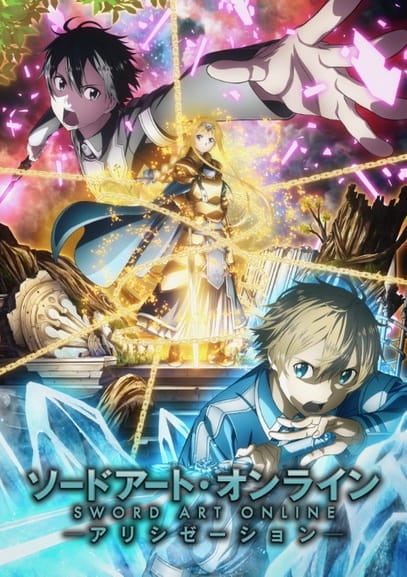 Aired: Oct 7, 2018 to Mar 31, 2019
Duration: 24 min. per ep.
Viewed: 2310
Synonyms: Sword Art Online: Alicization
The Soul Translator is a state-of-the-art full-dive interface which interacts with the user's Fluctlight—the technological equivalent of a human soul—and fundamentally differs from the orthodox method of sending signals to the brain. The private institute Rath aims to perfect their creation by enlisting the aid of Sword Art Online survivor Kazuto Kirigaya. He works there as a part-time employee to test the system's capabilities in the Underworld: the fantastical realm generated by the Soul Translator. As per the confidentiality contract, any memories created by the machine in the virtual world are wiped upon returning to the real world. Kazuto can only vaguely recall a single name, Alice, which provokes a sense of unease when mentioned in reality. When Kazuto escorts Asuna Yuuki home one evening, they chance upon a familiar foe. Kazuto is mortally wounded in the ensuing fight and loses consciousness. When he comes to, he discovers that he has made a full-dive into the Underworld with seemingly no way to escape. He sets off on a quest, seeking a way back to the physical world once again. [Written by MAL Rewrite]
Kirigaya, Kazuto

Main

Zuberg, Alice

Main

Eugeo

Main

Koujiro, Rinko

Supporting

Zuberg, Selka

Supporting

Levanteinn, Uolo

Supporting

Linel Synthesis Twenty-Eight

Supporting

Miller, Gabriel

Supporting

Mills, Andrew Gilbert

Supporting

Pina

Supporting

Quinella

Supporting

Serlut, Sortiliena

Supporting

Shinozaki, Rika

Supporting

Shtolienen, Tiese

Supporting

Tsuboi, Ryoutarou

Supporting

Ugachi

Supporting

Woolsburg, Eldrie

Supporting

Yui

Supporting

Yuuki, Asuna

Supporting

Kirigaya, Suguha

Supporting
Because we are making use of some free resources to reduce the main server load, the player can be opened on another domain or showed as a new tab (you have to allow pop-up if you're not using Chrome).