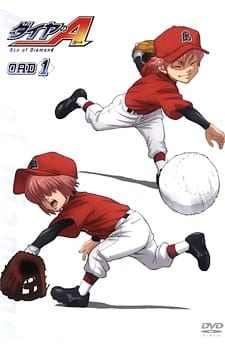 Aired: Nov 17, 2014 to Mar 17, 2015
Duration: 23 min. per ep.
Viewed: 442
Synonyms: Diamond no Ace OVA
OVA episodes bundled with 44th-46th manga volumes. The limited-edition DVD will animate "Face -Kominato Ryousuke Special Bangai-hen," which appeared in the Ace of Diamond Official Guidebook Ura and tells the "moving secret story of the Kominato brothers that cannot be seen in the television series."
Kominato, Haruichi

Main

Kominato, Ryousuke

Main

Kuramochi, Youichi

Main

Kawakami, Norifumi

Main

Umemoto, Sachiko

Supporting

Takashima, Rei

Supporting

Shirasu, Kenjirou

Supporting

Sawamura, Eijun

Supporting

Natsukawa, Yui

Supporting

Miyuki, Kazuya

Supporting

Maezono, Kenta

Supporting

Kuramochi, Grandfather

Supporting

Kuramochi, Mother

Supporting

Kominato, Father

Supporting

Kominato, Mother

Supporting

Isashiki, Jun

Supporting

Fujiwara, Takako

Supporting

Azuma, Kiyokuni

Supporting
Because we are making use of some free resources to reduce the main server load, the player can be opened on another domain or showed as a new tab (you have to allow pop-up if you're not using Chrome).